Chemical and Biomedical Engineering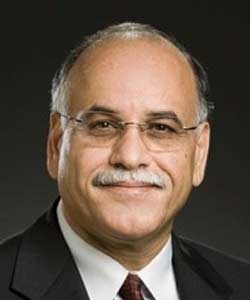 Khaled A.M. Gasem, Ph.D.
Professor
College of Engineering and Physical Sciences
Regents Professor & Bartlett Chair Emeritus   
Oklahoma State University
gasem@uwyo.edu
307-766-2845
Engineering Building Room 4025
Dept. 3295, 1000 E. University Ave.
Laramie, WY 82071
---
Research Interests:
Phase Equilibria Thermodynamics
Molecular Design of Chemicals
Thermophysical Properties Modeling
Enhanced Oil and Gas Recovery
Carbon Dioxide Sequestration
Process Simulation
---
Read Dr. Gasem's current
curriculum vitae
(CV).
See Dr. Gasem's publications and presentations
here
.
---
Course(s) Taught:
PETE 5355, Mathematical Methods
PETE 5020, Thermodynamics
PETE 5090, Research Methods
PETE 5150, Advanced Phase Behavior
PETE 5980, Dissertation Research