Human Nutrition and Food Emphasis

This program, leading to a Master of Science degree, allows students to pursue graduate studies in areas such as human nutrition and metabolism, food product development, community nutrition, food microbiology, sports nutrition, and disease prevention. Students can choose to pursue emphasis in Human Nutrition and Food option under the Family and Consumer Sciences umbrella, or the interdisciplinary Food Science and Human Nutrition option with cooperating curricula from this department and the Department of Animal Science. Career possibilities upon completion of this field of study include careers in human nutrition research, sports nutrition, public health and community nutrition, health and wellness, extension work, food product development, food and nutrition marketing, management, sales and public relations, food microbiology, and college teaching (community college) as well as further graduate study or study in professional education programs in human medicine and health care.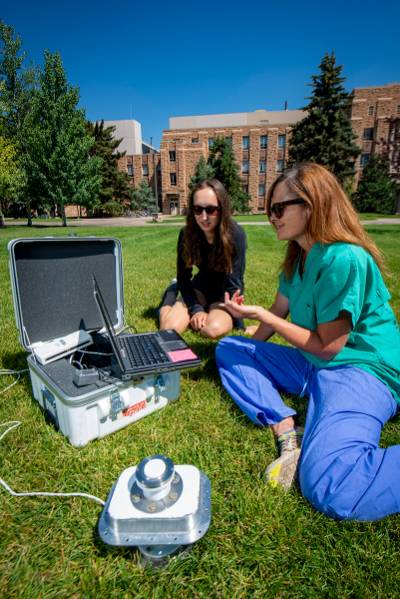 Support Courses Component
One of the goals of this graduate program is the integration of knowledge from food and nutritional sciences along with the biological sciences, natural sciences, and social sciences, and the application of this knowledge to disease prevention and enhancement of human potential. Graduate students may also earn a certificate in college teaching, available through the university's Center for Teaching and Learning.

Students must complete at least 18 credit hours of supporting course work.
Suggested courses for the support component include but are not limited to:
Nutritional Aspects of Proteins and Amino Acids (FCSC 5140)
Carbohydrate and Ethanol Metabolism (FCSC 5141)
Lipids II (FCSC 5144)
Advanced Nutrition (FCSC 5145)
Therapeutic Nutrition (FCSC 5146)
Nutrition and Weight Control (FCSC 5147)
Experimental Foods (FCSC 5150)
Sensory Analysis of Food (FCSC 5151)
Principles of Mammalian Reproduction (ANSC 4120)
Reproductive Biology Seminar (ANSC 5870)
Lipid Metabolism (ANSC/FDSC 5770)
Cell Signaling (ANSC 5061)
Food Microbiology (FDSC 5090)
Food Analysis (FDSC 5170)
Food Chemistry (FDSC 5720)
Immunology (PATB 5400)
Medical Virology (PATB 5710)
Methods of Training and Conditioning (KIN 5029)
Advanced Exercise Testing and Prescription (KIN 5056)
Application Conditions of Human Aging (KIN 5062)
Sport Psychology (KIN 5536)

Research/Thesis Component
Faculty in the human nutrition and food discipline are conducting research in the areas of food product development and sensory evaluation of food; health and physical performance of active individuals at all stages of the lifecycle; diet, health, and disease focusing on omega-3 fatty acids; food oxalate content and factors that affect the bioavailability of dietary oxalate.
Students must complete 8-10 credit hours of research (which includes a maximum of 4 hours of thesis).
Suggested courses for the research/thesis component include but are not limited to:
Nutritional Research Techniques (FCSC 5142)
Statistical Methods in Biology (STAT 5050)
Statistical Methods in Biology II (STAT 5055)
Regression Analysis (STAT 5115)
Data Analysis (STAT 5470)
Statistical Methods in Ag (ENTO 5080)
Thesis Research (FCSC 5960)
Seminar in Food Science and Nutrition (FDSC 5890)

Family and Consumer Sciences Component
The Family and Consumer Sciences component includes 1 credit of graduate seminar (FCSC 5103 and FCSC 5104) annually for a maximum of 2 credit hours.

Total Credits
Students must complete a minimum of 30 credit hours.
No more than 9 credit hours of 4000 level courses will be allowed in a master's program. Students may be required to take more than the minimum of 30 hours, either because they have to satisfy prerequisites for some courses, or because the student's committee determines that more than 30 hours will be needed for the student to reach his/her professional objective. Each student's appointed committee will formulate a plan of study within these program requirements.

Oral Defense
During the final stages of their program, each student will participate in an oral defense of his/her thesis or project. During the defense, each member of the graduate committee will ask questions related to the thesis/ project. In addition to turning in a required written version, students are strongly encouraged to submit/publish their work in a scholarly journal and submit/present their thesis research at a professional conference.