Graduate Degree Programs
Department of Family & Consumer Sciences
The Department of Family and Consumer Sciences, located in the College of Agriculture and Natural Resources, offers a program of study leading to a Master of Science degree. The Family and Consumer Sciences graduate degree program offers emphases in 3 areas:
The department has also partnered with the Department of Animal Science to offer a joint Master of Science degree in Food Science and Human Nutrition.
Students may also be considered for the doctoral program in Biomedical Sciences.
The majority of accepted students' coursework will be in their designated discipline and related areas. All master's degree options require a minimum of 30 credit hours of coursework. Each student's appointed committee will assist in formulating a plan of study within these program requirements. The objective of our graduate programs is to prepare students to:
Be competent in the content studied
Be competent in oral and written communications
Be an independent and reflective learner
Integrate theory, research, and practice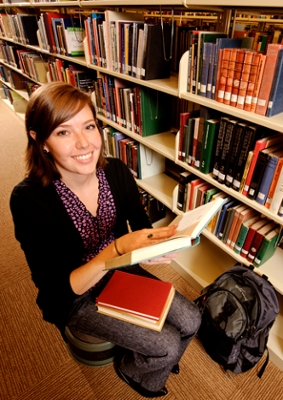 Admissions
Admission to our graduate program and selection for department-funded assistantships is highly competitive. Faculty in each program area will review the applications for their program area and priority consideration will be given to applicants who meet or exceed admission requirements and possess research interests that parallel those of the faculty. Applicants will also be evaluated based on their fit with the identified faculty member and whether the identified faculty member is currently accepting graduate students.
Admission requirements include:
A bachelor's degree based on a four-year curriculum from an institution accredited by one of the regional associations of the Commission on Institution of Higher Education or equivalent.
A grade point average of 3.0 or higher in the previous degree.

A Graduate Record Exam (GRE) score. In the past, successful applicants have typically had scores at or above the 50th percentile on two of the three subtests (verbal, quantitative, and analytical writing).

For international students whose native language is not English, a minimum TOEFL score of 76 or an official IELTS score of 6.5.
International students must also provide evidence of adequate financial resources.
 Click here for UW graduate admissions information.
Applications
Application packets for fall entry are due no later than March 1. Applications may be considered throughout the year if space in a program area is available.
To apply please complete the Online Application and submit the following:
Transcripts from all institutions attended
Official GRE scores
Names and contact information for at least 3 people who will provide letters of recommendation about the applicant's preparedness and/or qualifications for the desired graduate degree program
A statement of intent that includes: 
- research interests
- faculty member(s) the applicant is interested in working with
- future goals related to the program of interest
- why the applicant is seeking this degree
- prior work related experience
A brief resume or curriculum vitae
International applicants must provide: 
- official TOEFL or IELTS scores 
- evidence of adequate financial resources
Please direct questions to:
Dr. Christine Wade
Department Head
Family and Consumer Sciences
1000 E. University Ave, Dept. 3354
Laramie, WY 82071
(307) 766-4145 
(307) 766-5686 (fax)
fam-consci@uwyo.edu