Contact Us
Department of Geology and Geophysics
1000 E. University Ave.
Laramie, WY 82071-2000
Phone: 307-766-3386
Fax: 307-766-6679
Email: geol-geophys@uwyo.edu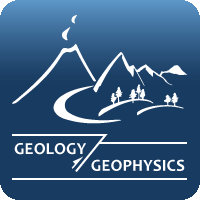 Cheyenne Boy Who Saved Sister To Be Honored With Reception at UW Geological Museum Nov. 12
November 10, 2021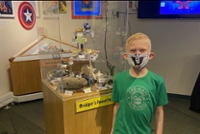 Bridger at the Geology Museum
A boy from Cheyenne who saved his little sister's life from a charging dog in summer 2020 will be honored with a reception at the University of Wyoming Geological Museum from 5-7 p.m. Friday, Nov. 12. The event is free and open to the public.
Bridger Walker, who was 6 years old at the time, stood between his sister and the dog. Walker was bitten by the dog multiple times on the face and head, injuries that required roughly 90 stitches, according to an article in The Wyoming Tribune Eagle.
"In 2020, Bridger saved his younger sister from an attacking dog, and news of his heroic act went global. As a result, thousands of fans sent Bridger rocks, paintings and even videos from celebrities recognizing his bravery," says Laura Vietti, collections manager for the UW Geological Museum. "Here, for the first time, Bridger and his family are sharing some of his favorite rocks and art pieces as a temporary exhibition at the UW Geological Museum."
Walker and his family will be at the museum reception to celebrate "Bridger's honorary exhibit," Vietti says. The event also will include an interactive activity table by the Wyoming NASA Space Grant Consortium at UW.
When the story went viral July 12, 2020 on an Instagram post made by Walker's aunt, the boy's heroics were noted by many actors who play superheroes in the "Avengers" movies. These included Robert Downey Jr., who stars as Iron Man; Chris Evans, who plays Captain America; Chris Hemsworth, Thor; Tom Holland, Spider-Man; and Mark Ruffalo, the Incredible Hulk. Other actors who sent encouraging messages were Hugh Jackman, who starred as Wolverine in the "X-Men" films; and Anne Hathaway, who played Catwoman in "The Dark Knight Rises."
Walker's honorary exhibition will be on display through June 2022.
For more information, email geolmus@uwyo.edu.
Contact Us
Department of Geology and Geophysics
1000 E. University Ave.
Laramie, WY 82071-2000
Phone: 307-766-3386
Fax: 307-766-6679
Email: geol-geophys@uwyo.edu