Life Sciences Program
Mark Lyford, Program Director
Aven Nelson, Room 138
1000 E. University Ave.
Laramie, WY 82071
Phone: 307-766-4158
Fax: 307-766-2851

Welcome to the Life Sciences Program
at the University of Wyoming!
The Life Sciences Program provides a common series of courses for all life science majors at UW.  So whether you are a life science major in the College of Agriculture, Arts & Sciences or Health Sciences, you will likely enroll in a LIFE course at some point in your college career.  Courses in the Life Sciences Program offer a cutting-edge view of biology and biological research and are taught by some of the most respected teachers at UW.  Although the Life Sciences Program does not offer a major, a wide range of life science majors can be pursued at UW.  For more information on specific life science majors, contact the College of Agriculture, Arts & Sciences or Health Sciences.
Life Sciences in the News
* Congratulations to Steven M. Trowbridge, graduate student in the Department of Botany and Life Science Teaching Assistant, for being selected this year's recipient of the Edward D. Waggy Memorial Award. This scholarship has been instigated by Ed's family and aims to honor Teaching Assistants who exhibit the compassion and care for their students that was so evident in Ed. Steven was nominated by Brianna Wright and the Department of Botany as an exemplary Teaching Assistant who exhibits a level of concern and effort for his students that goes beyond expectations. 
* Recently members of the Life Sciences faculty were recipients of the 2013 Promoting Intellectual Engagement (PIE) Award. The PIE Award is co-sponsored by LeaRN, Ellbogen CTL, Residence Life & Dining, and Center for Advising and Career Services. Nominated on-line by sophomore students, the award honors instructors who inspire excitement, inquiry, and autonomy in first-year courses. Those honored included Elizabeth Flaherty, Carly Jordan, Jonathan Prather, Mark Lyford and Brianna Wright.
Share This Page:
Life Curriculum Infographic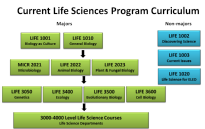 Life Curriculum