UW Nursing & Health Professions Career Fair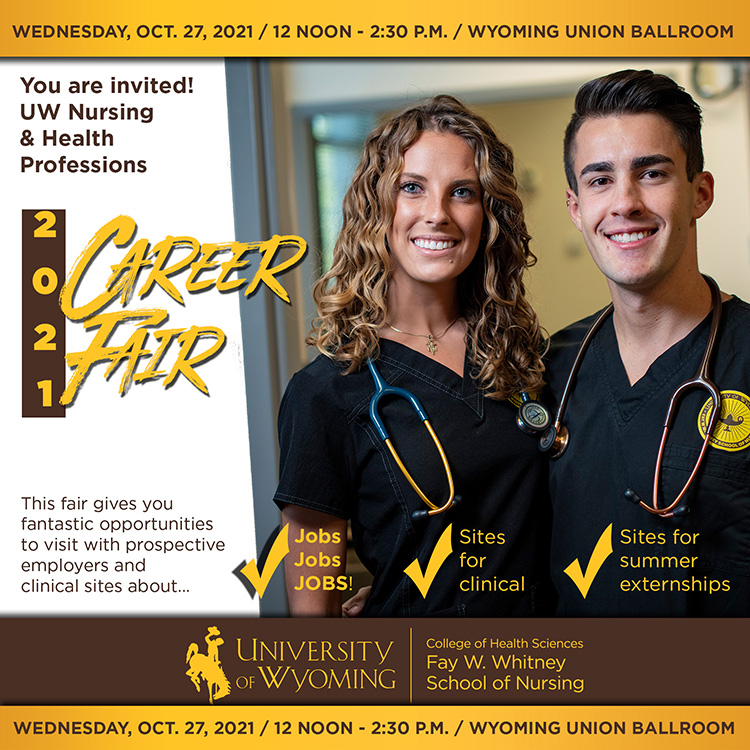 When and where is the next nursing career fair?
The Fall 2021 "Nursing & Health Professions Career Fair" is scheduled to be IN PERSON this year, on Wednesday, October 27, from 12 noon to 2:30 p.m. 

How do employers register?
Employers can register for the fair closer to the event by going to ACES (Advising/Career/Exploratory Studies Center) Job Fairs and Career Events page at http://www.uwyo.edu/aces/career-services/career-events.html. 

Do you have a career fair in the spring semester?
No, we do not have a career fair in the spring. We hold our career fair once every year in the fall semester. 

Questions? 
Contact ACES if you have questions (aces@uwyo.edu or 307-766-2089).
----------
What are the opportunities presented at the fair?
The fair presents an opportunity annually for students to visit with prospective employers about the variety of health professions job options awaiting them upon graduation.
Nursing Career Possibilities are endless! 
Following are just a sprinkling of possible nurse careers for you to explore:
Case Manager
County Health Offices
Psychiatric Mental Health Nurse Practitioner
Emergency Room NurseNurse
ResearcherFlight Trauma Team Nurse
Nurse Educator
Armed Services Nurse
Home Health Nurse
Traveling Nurse
School Nurse
Nurse Consultant
Hospital Floor Nurse
Nursing Home Nurse
Obstetrics Nurse
Physician's Office Nurse
Family Nurse Practitioner
Public Health Nurse
Hospice Nurse
Corporate Nurse
Mental Health Care Nurse
Pediatric Nurse
Geriatric Nurse
Administrator/Leader
... and the list goes on!
-----------
page updated 10/11/2021