2005 Distinguished Alumna
Mary Kay Goetter
RN, MS
(MS, '04)
----------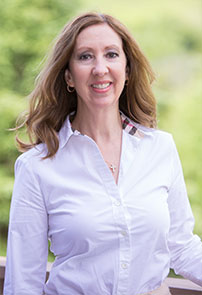 Written in support of Mary Kay Goetter for the Distinguished Alumni Award:
"Mary Kay has not only been an excellent student, but she is also passionate about the provision of excellent nursing care. Her willingness to solve problems that exist in the provision of nursing care exceeds the norm. She has made, and will continue to make, outstanding contributions in the field of maternal/child health care."
Research contribution hailed
Mary Kay's thesis project was entitled "Infant Sleep Position: Improving Compliance in Primiparous Women." She received an Outstanding Master's Thesis Award from the University of Wyoming Graduate School and was also recognized by the Association of Women's Health, Obstetric and Neonatal Nurses (AWHONN) for this work. She was the winner of the AWHONN Scientific Award during a regional conference held in October of 2003.

This research makes a contribution to the field of maternal/child health care by providing evidence that one-on-one teaching helps new parents follow recommendations related to infant sleep position. This is important because sleep position is related to Sudden Infant Death Syndrome (SIDS), a leading cause of infant mortality in the United States. Mary Kay hopes to publish this work in the Journal of Perinatal Education.

Advocate for Nursing
Mary Kay brings a high level of knowledge, talent, creativity, energy and enthusiasm to any situation. She works well with her colleagues whether in the classroom or hospital. She recently spoke before the Senate Labor and Health committee. She was articulate, well prepared and knowledgeable. We are privileged that she is such an advocate for nursing.
----------
More about Goetter: "Career continues to mushroom..." [2016]
----------
Page updated: 2/22/2017