2011 Distinguished Alumna
Brigid Mulloy
(BSN, '79)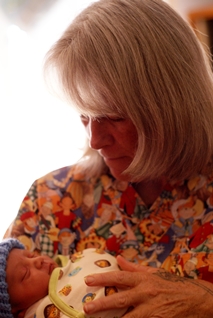 Brigid Mulloy, RN, CNM (BSN '79), is the 2011 Distinguished Alumna for the Fay W. Whitney School of Nursing at the University of Wyoming. Mulloy, a Certified Nurse-Midwife in Hawaii, is honored for her excellence in clinical practice as a Certified Nurse-Midwife and for her outstanding community contributions. 
Click here to read Mulloy's 2011 convocation address.
The following are excerpts are taken
from the letter sent in support of Mulloy's nomination for this award:
In 2002, after working for eight years as a nurse midwife on the economically depressed, predominantly Hawaiian island of Molokai, Mulloy was asked to become the Director of the Women's Health Center at Molokai General Hospital. While she was director, the Women's Health Center received the prestigious "Healthy Mothers, Healthy Babies" Award for outstanding contributions to the health of Hawaii's women and children. Brigid also took part in and directed an innovative outreach program to the even more isolated and under-served island of Lanai, working with that community to help them establish their own Women's Health Center.
While she was director, Brigid also developed Molokai's first sexual assault response team. She worked closely with law enforcement officers and the staff of Molokai's Women's Shelter to ensure that these women were given compassionate as well as competent care. During these years, Mulloy provided sex education outreach to the young women at Molokai High School, served on Maui County's Commission on the Status of Women, and on the Board of Directors of the Maui Aids Foundation. She wrote an article for Midwifery Today, studied with Hawaii's most influential Kahuna La'au Lapa'au (Master of Hawaiian Medicine), Papa Henry Auwae, and presented at a midwifery conference in Costa Rica with Ina May Gaskin [known as "the mother of modern mid-wifery"]. Mulloy also wrote successful grant proposals to the County of Maui, the State of Hawaii's Dept. of Health, and the national March of Dimes.
In 2007, Mulloy was recruited to work at North Hawaii Community Hospital's Family Birthing Unit. This opportunity gave Brigid the chance to grow professionally as a midwife, and to pursue other interests, e.g., taking Elderhostel groups to experience Easter Island, where she continues to be involved in the work her father (the late University of Wyoming Anthropology professor, Dr. William Mulloy) started with the support of the University of Wyoming in the 1950's. She was instrumental in the creation of the William Mulloy Library, a research facility for archeologists and the people of Easter Island. Ms. Mulloy was invited by the University of Wyoming in 2007 to represent her father at the opening of the new Anthropology building on the Laramie campus.
---------- 
Page updated 2/22/2017