2019 Distinguished Alumna
Joan L. Moon
EdD, CNM
(BSN 1979; MS Parent-Child Nursing 1987)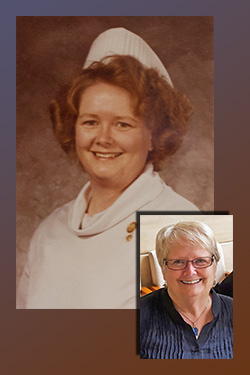 The Fay W. Whitney School of Nursing at the University of Wyoming announces their 2019 Distinguished Alumna, Joan L. Moon, EdD, CNM. Moon will be receiving her award for excellence in leadership, education, and innovation during Homecoming week on Friday, October 18, 2019 at the University of Wyoming College of Health Sciences Distinguished Alumni Reception.
EDUCATION
Joan Moon is a 1979 BSN and a 1987 MS (Parent-Child Nursing) graduate from UW Nursing. Her graduate nursing accomplishments have resulted in practicing as a Clinical Nurse Specialist, Certified Nurse Midwife and university faculty. In 1999, she graduated from the Frontier School of Nurse-Midwifery; in 2003, became certified in Medical and Health Education at the Medical College of Ohio; in 2007, earned an EdD in Leadership & Policy Studies at Bowling Green State University.
WORK EXPERIENCE
Joan began her nursing career as an obstetrical staff nurse, childbirth educator, and lactation consultant at Ivinson Memorial Hospital in Laramie. Relocating to Ohio, she worked in the Mercy Health System as a Clinical Nurse Specialist, Director of Education, and Director of the Tiffin Mercy Hospital Prenatal Clinic, after which she practiced as a certified nurse-midwife. Over the past 18 years she has held faculty positions at the University of Toledo College of Nursing, Western Governors University, and currently Walden University.
ENTREPRENEUR, INNOVATOR, AUTHOR, LEADER
Entrepreneur / Innovator
Joan has been an entrepreneur and innovator in women's health with the development of an educational module, "A Woman's World: Discovering the Dynamic Menstrual Cycle," which is currently used by faculty throughout the country and Australia. Her website, WomensHealthDynamics.com, promotes women's health through storytelling and technology.
Author
Dr. Moon has authored professional publications and since 2002 has contributed poster and/or podium presentations at conferences and meetings in the U.S. as well as Canada and Australia. As a contributing editor, her birth poetry was published for many years in the International Journal of Perinatal Education. For several years, Joan served on the editorial review board of the Journal of Human Lactation.
Leader
Dr. Moon's leadership is apparent in the positions she has held over the years, as well as her creativity and initiative in developing Women's Health Dynamics Institute, LLC of which she is the owner. The mission of her institute is "to promote women's health and health care decision-making for all stages and ages."
Another example of Joan's leadership has been in the fight against the heroin addiction crisis in the United States. "Twenty people were arrested on drug charges the day that Joan and her husband, Chuck, retired to his hometown of Bluffton, Indiana, with a population of 10,000 people," begins one nominator. "Joan is actively participating in this fight by sitting on the Board of Wells County (Indiana) Citizens Against Drug Abuse. Her role as a citizen of the community as well as her background in nursing have helped her support the group's educational activities. In her position on the board she was able to obtain grant funding to bring Sam Quinones, author of Dreamland: The True Tale of America's Opiate Epidemic and nationally known speaker, to a conference held for her community. She was an invited community speaker at the Indiana Governor's task force on the opiate crisis in Indianapolis, Indiana, and has been featured in the Bluffton newspaper about her experiences with this epidemic of addiction. Being very active on social media, Joan has contributed to the online blog, HealthComU, by contributing a piece titled, 'It Takes a Village: Circling the Heroin Addict'."
AWARDS
Joan has been the recipient of several awards, including: University of Wyoming Outstanding Graduate Student for Community and Professional Service, Esther Rome Student Research Award from the International Society for Menstrual Cycle Research, Outstanding Excellence in Mentoring Award from Western Governors University, and Outstanding Community Service Award from Citizens Against Drug Abuse in Bluffton, Indiana. 
----------
Story Placed: 2019-06-27