UW FWW School of Nursing
Visit: Health Sciences 351
Mail: Dept. 3065
1000 E. University Ave.
Laramie, WY 82071
Phone: (307) 766-4312
Fax: (307) 766-4294
Email:
mailto:uwnursing@uwyo.edu
Open Faculty Positions
Laramie, Wyoming - a family-friendly small town situated in the high plains between the Laramie and the Medicine Bow mountain ranges - has abundant outdoor recreation and is an easy drive not only to the mountains, but also to Fort Collins and Denver, Colorado.
---
Currently Available Faculty Positions
When the school has an open faculty position, the position will be posted below on this page.
Position #4139: RN-BSN/ReNEW Program Coordinator
[Associate or Senior Lecturer]
---
Thank you for visiting this page.

"The Fay W. Whitney School of Nursing has an atmosphere that is friendly, scholarly, professional and forward-minded. Join an exciting and dynamic community where active learning and teacher-student partnerships, scholarly practice, interprofessional education and practice, and rural health care are valued." - Mary E. Burman, Dean and Professor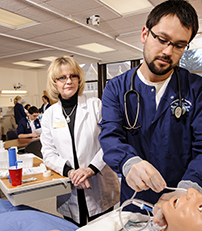 Above, faculty oversee students in the Clinical Simulation Center. Check out the slide show tour of our facilities by clicking into the link below: