Application
Deadline: Dec. 1          Apply!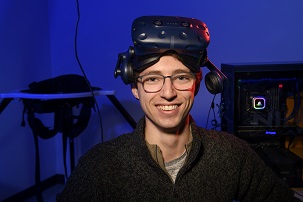 Psychology graduate students with interests in Cognition or Cognitive Development engage in doctoral training that promotes expertise in the theories, current knowledge, and research paradigms in these areas. Cognition topics include memory, spatial cognition, information processing and decision-making in applied tasks, and cognitive aging. Cognitive Development topics include children's developing theory of mind, social cognition, meta cognition, moral development, adults' optimal development, world views and well being. In both areas, research activities are strongly emphasized.
Throughout their four-year careers, students are encouraged to work independently and collaboratively with one or more faculty and with other students. This flexible training equips graduates for employment in academia, research institutions, government agencies, and a variety of service-related settings. 
Ph.D. Requirements
Doctoral students in Cognition or Cognitive Development are expected to successfully complete:
four core psychology courses (Social Psychology, Cognitive Psychology, Biological Psychology, and Developmental Psychology),
two statistics courses, and a methodology course,
coursework appropriate to their research foci as determined in consultation with their mentors and graduate committees,
a Master's thesis and dissertation on topics in developmental or cognitive psychology, and a qualifying exam, developed by each student in collaboration with his or her graduate committee.
Cognition/Cognitive Development Faculty
Karen Bartsch, Ph. D. (U. Michigan, 1988)
Cognitive and meta-cognitive development.
Karen Bartsch is not currently recruiting graduate students for Fall 2022
Kayla Burd, Ph.D. (Cornell University, 2018)
Social cognitive processes in legal decision making within eyewitnesses, police officers and jurors. Impact of extra-legal biases on perception, memory, reasoning, and decision-making.
Kayla Burd is only recruiting graduate students for her Psychology/Law research program

Meredith Minear, Ph.D. (U. of Michigan Ann Arbor 2004)
Spatial ability and applications towards STEM learning, Individual and gender differences in spatial cognition and spatial navigation, the effects of media consumption and media multi-tasking, Cognitive training, Use of immersive VR in cognitive research, Use of EEG in studying individual differences in spatial cognition.
Meredith Minear is currently recruiting graduate students for Fall 2022
Narina Nunez, Ph. D. (Cornell U., 1987)
Adolescent Decision-Making, Juror and Jury Reasoning and Decision-Making.
Narina Nunez is only recruiting graduate students for her Psychology/Law research program.
Christina McDonnell, Ph.D. (U. Notre Dame)
Autism, Traumatic stress, Developmental psychopathology and emotion socialization, Cognitive-behavioral interventions
Christina McDonnell is currently accepting graduate students for Fall 2022
Where Some of Our Alumni Are Now:
Tess (Young) Chevalier, Lecturer at University of Oklahoma, Norman, OK.
Jennifer Cole Wright, Professor, Charleston College, Charleston, SC.
Mindy Dahl, Health Science Policy Advisor, National Institutes of Mental Health.
Kamala London, Professor, University of Toledo.
Monica McCoy, Professor and Chair, Converse College.
Jessica Miller, Professor and Chair of Social Science Division, Colorado Mesa University, Grand Junction, CO.
Walter Peters, Research Associate, Nielson Corp.
Maggie Renken, STEAM Director at Rabun Gap-Nacoochee School, Rabun Gap, GA.
Connie Tang, Professor, Stockton College.
Christine Wade, Department Head and Associate Professor of Family & Consumer Science, University of Wyoming.