History of Half Acre Gym
Campus Recreation
Historic Half Acre Gymnasium

"Man is of Soul and Body, Formed for Deeds of High Resolve".  Thus reads the inscription above the west entrance to the University of Wyoming's iconic Half Acre Gym.  Originally dedicated in 1925, this historic structure has long served as the eastern anchor of the main campus in Laramie.  It was host to men's and women's athletics programs from 1925-1955, including Cowboy Basketball's "glory years" and that famed 1943 National Title team.  Under the roof at Half Acre, the Cowboys posted a record of 222 wins and 44 losses.  It also served as the home of the school's first Student Health center, Dance department, and fulfilled the multitude of physical education needs of the students, faculty and staff of a growing land grant university. 
Although the Athletic Department has moved on to other venues, Half Acre has continued to serve the needs of students, faculty and staff alike in other capacities.  In an attempt to stay current, the University has commissioned major renovation/addition projects over the years, but now many of those features too have aged.  With the remodel and addition to Half Acre Gym, this historic monument on campus will once again be a source of pride for the University of Wyoming.  Half Acre is more than a gym-it has a rightful place as a significant contributor to campus life and the future success of UW.
Half Acre Recreation and Wellness Center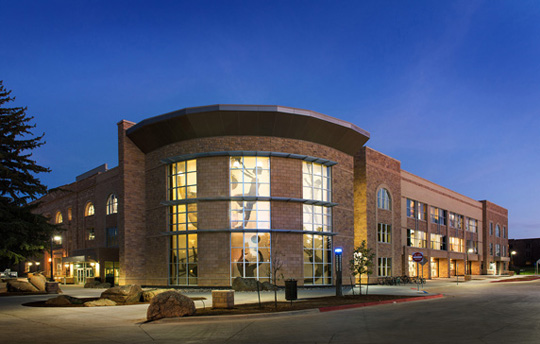 With exceptional support from the Associated Students of the University of Wyoming (ASUW) and the State of Wyoming, a multi-million renovation and expansion project of the historic Half Acre Gymnasium was completed in 2016.  Tobin and Associates of Cheyenne, in conjunction with Ohlson Lavoie Collaborative of Denver, provided architectural services for the project.  General Contractor responsibilities for the project were managed by Groathouse Construction of Cody.
The project expanded the historic facility into a modern recreation facility and wellness center.  The plan included a significant increase in cardiovascular and weight training areas; updated and expanded group fitness rooms; added new men's and women's locker rooms; a new heated spa in the improved swimming pool area; a Multi-Activity Court (MAC) gym for indoor sport opportunities; a Wellness Center dedicated to supporting a culture of health and wellness at UW; and an expansive indoor climbing area including a large pinnacle wall along with a separate bouldering area and top-rope teaching area.  The project also provided improved accessibility including a passenger elevator to access all levels of the facility.  The design allowed the opportunity to integrate multiple aspects of holistic wellness under a single roof.
The exterior of the building remains true to the historic nature of the facility, utilizing native sandstone and high, arched windows.  The interior of the facility showcases the colors of the university, with brown and gold highlighted throughout.  The main gym honors the building's historic past with floor markings stating "Half Acre Gymnasium, Home of the 1943 National Champions".