Contact Us
The School of Culture, Gender & Social Justice
Ross Hall 108
Dept. 4297
1000 E. University Ave.
Laramie, WY 82071
Phone: 307-766-2763
Dr. Denney Presents on Women's Suffrage
October 27, 2019
Dr. Colleen Denney, Professor of Art History and Gender and Women's Studies, addresses 180 Wyoming young women from around the state on the subject of "Sister Suffragette" in conjunction with Dr. Holly Dalrymple, Associate Professor, UW Music Department, for the music festival Wyoming Women in Song, directed by Dr. Dalrymple, whose focus this year is women's suffrage in honor of our 150th year celebration of Wyoming women's suffrage.
On December 10, 1869, Wyoming passed the first unconditional law in the U.S. permanently guaranteeing women their inherent right to vote and hold office – a full 50 years before women in the rest of the nation were guaranteed this same right.
Dr. Denney was able to share the work she has done around the world on the visual culture of women's suffrage, Wyoming and beyond. In the picture the students are watching the video clip from the 1964 film, Mary Poppins, called "Sister Suffragette."
Dr. Denney is Professor of Art History/Gender and Women's Studies. She teaches courses on gender in art, including ones on Gender and the Humanities, History of Women Artists, and Victorian Women's Lives: Their Art, Literature and Culture. Her classes are interdisciplinary, reaching across art, literature, culture and feminist theory in order to examine and celebrate women's lived experiences, both historically and today.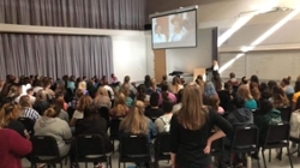 Contact Us
The School of Culture, Gender & Social Justice
Ross Hall 108
Dept. 4297
1000 E. University Ave.
Laramie, WY 82071
Phone: 307-766-2763