2019-2020 K-12 SI Roadshow Highlights
Riverton Junior High Statistics Outreach
On April 29th, the Roadshow virtually visited the students at Riverton Junior High. Fifty one students in three separate classrooms joined our Roadshow teammates Ashleigh Pilkerton, Liam Guille and Makayla Wheeler to apply their statistics knowledge through an applied science lesson. The Roadshow team began by introducing themselves and explaining how they use statistics in their research and teaching. Ashleigh then introduced the students to the natural history of Yellowstone Cutthroat Trout including the habitats they live in and the influence of their environment on their body condition. Using three fish body composition metrics commonly used in fisheries, including body length, body weight and percent body fat, the students applied their statistical knowledge to calculate the mean, median, mode and range of three fish populations. The students then explored the relationships between each fish population with aims to understand which environment the fish were sampled from. Applying their recently acquired background knowledge and bringing the outreach full circle, Riverton Junior High statistics students successfully related fish body condition to environmental conditions.
Quotes from the Riverton Teachers and Students:
This experience was a perfect model of successful virtual learning.  Many of the students 
typically relate statistics solely to their grades prior to the lesson.  The real life data and connections that were made broadened their perspective on how data is used.  The flow of the lesson and engagement of the students continued throughout the lesson.  Yet another fantastic learning experience from the Roadshow Team!
Quotes from the Roadshow Team:
My prior outreach experience primarily consisted of solo teaching; collaborating with my Roadshow teammates was enriching and I had a blast spearheading the outreach efforts together! I was impressed with how smooth the transitions were between individuals and sections of our program. The continuity in our language and teaching was seamless and each of our unique communication and teaching styles enhanced the program in their own way. For me, the highlight of outreach efforts is seeing the lesson come full circle and the 'implementation' of what was learned.  Specifically, hearing how the students would have preferred to be low-elevation lake Yellowstone Cutthroat Trout was particularly interesting! I find teaching fulfills me in ways that few other things do. The joy of sharing about our natural world and seeing the spark in students' eyes brings me joy similar to how I feel when hiking or backpacking.
---
Park County Outreach
On Wednesday, November 11th, the Virtual Roadshow joined the Park County 3rd grade students to virtually explore the Solar System. Led by Cristilyn Gardner, a PhD student in Physics and Astronomy, the 3rd graders began by drawing what came to mind when they heard the word 'planet'. They shared their drawings and told us what they had depicted. Cristilyn then took the students on a virtual tour of the solar system and focused on the ways that researchers use science to answer questions about the sun and the planets. From solar probes to Voyager 1 and 2 that have entered interstellar space, Cristilyn introduced the students to technologies that allow scientists to answer questions. The students completed the visit by drawing their planet again, now equipped with their newfound knowledge. The students asked many thoughtful questions ranging from How hot is the sun? to Is there water on Mercury?
Cristilyn was assisted by Roadshow Teammates Liam Guille, Brett Ralston and Ashleigh Pilkerton.

Quotes from the Roadshow Team:
'This was such a rewarding experience! The students had deep, thoughtful questions and their drawings showed just how creative they are.' - Cristilyn
"It was great getting to see the positive responses to this virtual astronomical outreach. Each student showed a different understanding of planets and their questions were creative and showed engagement along with deeper thinking. This was definitely a highlight of positivity and the possibilities that can be achieved even during a pandemic!" - Brett
"Every single outreach experience that we have only serves to further illustrate the versatility of active learning. Whether the subject matter is in your backyard or thousands of light-years away, active learning allows students to become excited about science in a meaningful way." - Liam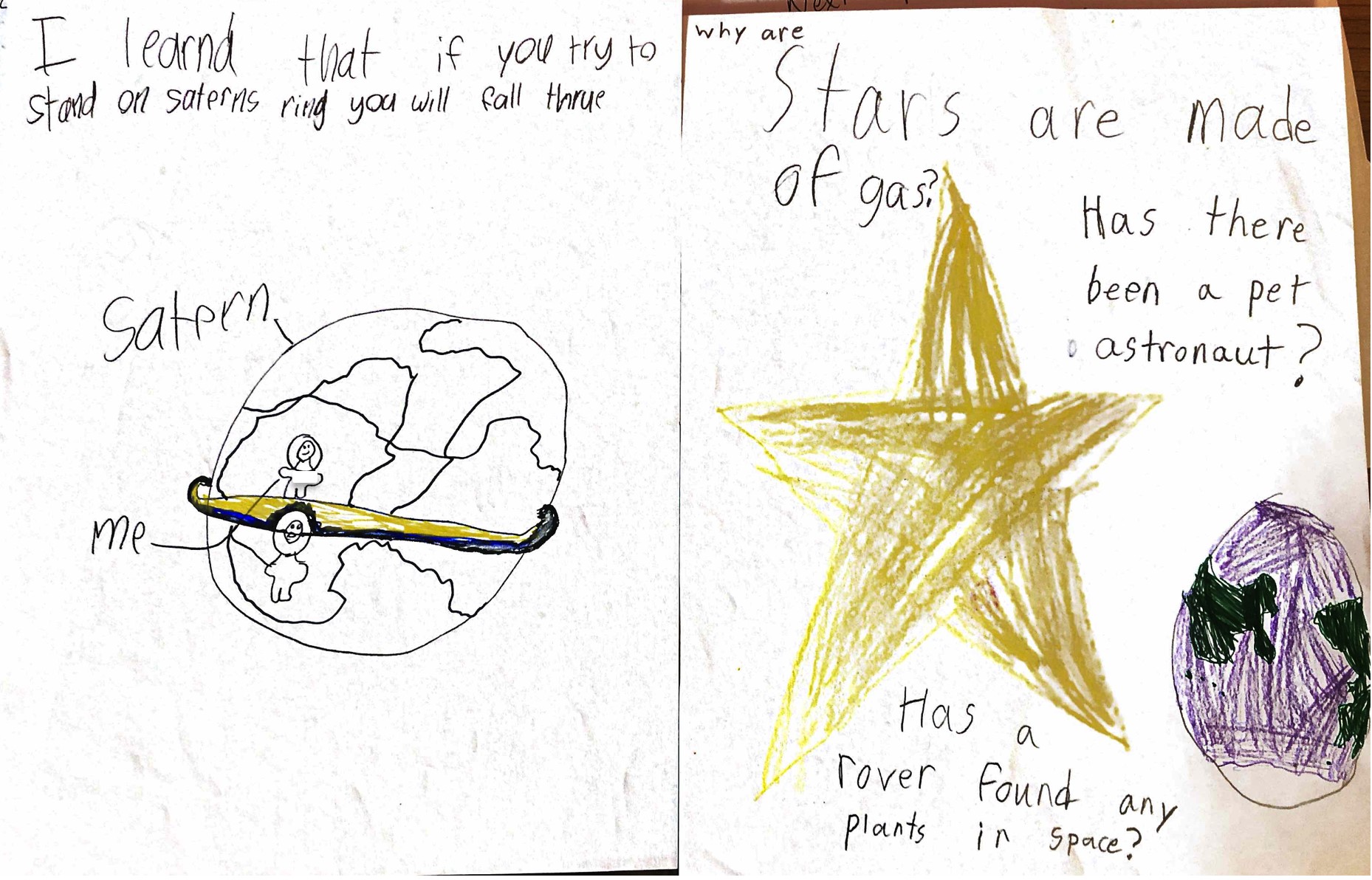 Learning about planets with the Roadshow team stimulated curiosity and allowed students to self-assess their learning!
---
Riverton Virtual Roadshow
On Wednesday, October 14th, the Science Roadshow facilitated a virtual outreach with Riverton 8th grade students. In collaboration with Mr. Beers and Mr. Samuelson, Liam Guille (a Molecular Biology and Physiology Major from Cheyenne) designed case studies that enabled the 8th graders to practice being genetic counselors. They considered three diseases: Long QT Syndrome, Hereditary Breast and Ovarian Cancer and Cystic Fibrosis. During each class session, students split into three groups and became experts on one disease. They worked through three case studies and using patient pedigrees, they advised the fictional patients. At the end of the hour, the students came back together as one large Zoom group and shared their expert knowledge about the 3 diseases. Despite some Zoom adventures, each student was able to interact with one of our three Roadshow mentors: Liam Guille, Sydney Comet and Mercedes Fermelia. 


Quotes from the Roadshow Team:

"This Roadshow was such a treat for me! I love working with the Riverton Middle School students, and I was so impressed by the level of knowledge that they came into the activities with. They blew my mind with their ability to come up with new ideas and use them to solve really challenging real-world problems. Despite a few Zoom technological issues, we had great chats through the chat box and through the microphones, and I feel like they taught me a lot too! We aren't able to travel to be there in person right now, but the virtual visit was definitely the highlight of my week!"

- Mercedes


"What a unique experience this Roadshow was! The Riverton Middle School students were so dynamic and curious. They were able to problem solve some challenging problems, were adaptable and didn't let technology problems interfere with their learning. They asked some amazing questions and made this outreach a really great virtual visit!"
-Sydney

"Genetics can be one the most difficult concepts for students to take from theory to real-world application, but that wasn't an issue for any of the students at Riverton Middle School! These students have a clear passion for helping others and making informed decisions; more than once they exceeded my greatest expectations. Being able to not only discuss STEM but to show how it is applied in real-world settings is what Roadshow is all about."
-Liam
Quotes from Riverton Middle School teacher (Mr. Beers):
"The genetics virtual roadshow brought to us by the University of Wyoming students was a really great opportunity for our students to see how their classroom knowledge can apply to real world situations. Liam, Sydney, Mercedes, and Rachel prepared a great lesson for our kids about genetic counseling and using pedigrees to identify areas of concern in a medical family history. Many of our students used examples from that lesson in discussion during the days following the lesson. Additionally, I have a family member who is interested in genetic counseling and I was able to use this experience to help her see what she could be doing in the future."
--Mr. Beers
---
Riverton Summer School Virtual Roadshow
We led Zoom class for the 6th, 7th and 8th grade Riverton Summer students on both Wednesday, June 17th and Tuesday, June 23rd. In total there are ~20 students. On the 17th, the students learned to differentiate between life forms and agents. Viruses are agents. Mercedes led a mini lecture and then students immersed in an interactive book that Liam wrote about the SARS-CoV-2 virus and COVID-19. On Tuesday, June 23rd, I led a mini lecture on the human microbiome and explained how our bodies are like their own planets. Mercedes immersed the students in microbial art and Sydney updated the students on her work at doing SARS-CoV-2 testing. Together, we helped the students relate the results from their handwashing experiments to what we have learned about both the human microbiome and SARS-CoV-2.
Quotes from the Roadshow Team
"This roadshow was unlike any that I have experienced before, but it was clear that the students and teachers appreciated us being there just as much if not more than when we have been there in person. I couldn't see the students physically, but I could still witness them light up with awe and curiosity over the chats. It is so rewarding to see that their joy and interest were still being peaked even through a virtual connection." -Mercedes Fermelia 
"What makes teaching in this environment so unique is how the public health circumstances that are shaping our society present perfect opportunities for active learning. Our Virtual Roadshow with the Riverton Middle School allowed us to engage students in active learning that helped them tackle the uncertainty of COVID-19 in their communities with science and facts. Experiences like these in Roadshow have shown me that active learning is not only useful for helping students achieve learning outcomes; it helps to build community using experiences that we all share." -Liam Guille
"Working with the roadshow showed how essential active learning is in the virtual setting. By helping create an environment that engages student curiosity, we were able to embrace many of the similar attributes of in-person instruction in a virtual setting. The educators and students at Riverton Middle School did a phenomenal job at correlating each lesson with the impact that it has on our communities during the pandemic. This experience has shown me how truly impactful active learning has on the many facets of our society." - Sydney Comet
---
Sheridan Roadshow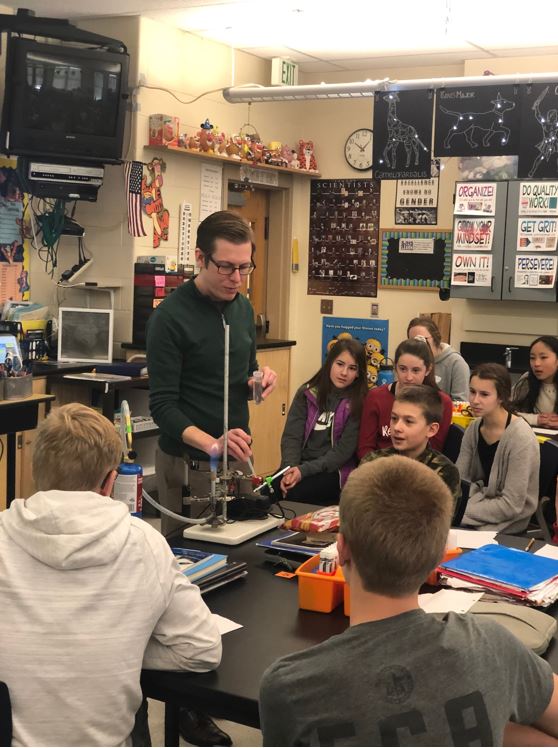 On February 20th 2020, the Roadshow traveled to Sheridan, WY to learn with the Middle School students. Dr. Jamie Crait and Alex Higley shared their research with the 7th-grade classes and focused on the decline of otter populations in Yellowstone. They then immersed students in hands-on modeling of how Cutthroat trout (the primary food source for otters) populations are monitored.
Rachel and Ben Romanjenko helped the 6th-grade students connect their learning about life forms with their knowledge of rock cycles through a conversation about chemolithoautotrophs ("rock-eating bacteria"). Dr. Caleb Hill launched his "Measure Anything" program and helped students envision how they could use analytical methods to answer meaningful questions.
Ben Romanjenko, Dr. Hill and Rachel worked with the 8th graders to allow them to transfer their knowledge of genetics to authentic research applications. The 8th-grade students asked rich questions that allowed them to connect their chemistry, biology and physics learning. By the end of the day, the UW researchers had the chance to learn with 376 Sheridan Junior High students in 11 classes.
Quotes from the Riverton teachers and students:
Sarah Hackworth, Sheridan's 6th-grade instructor commented:
"After the visit, the students have been making some cool connections with the role bacteria can play in breaking down rocks and asking great questions about chemical 
formulas and the periodic table. I think it is so essential for students to have opportunities to interact with scientists and am so grateful...!"
The students from every section of Sarah Hackworth's class sent thank you cards. Below are some from the 5th-period students:
"Dear Ben, Rachel, & Caleb thank you for coming to our class, we had lot's of fun!"
"Thank you for coming to our class because you helped me think about something new, and learn about it, and I thought it was cool that the fire changed colors."
"Thank you Ben, Rachel, and Caleb one thing I thought was cool is when you were explaining what you were doing and also when we did the demonstration of the flame and that was one of the coolest parts of the demonstration. The demonstration was cool because all you had to do was add salt and the flames changed color."
"Thank you for teaching me and my fellow classmates about rock-eaters. One thing I learned is that you can change the color of fire with different atoms"
"Thanks for coming to our classroom on Thursday. I enjoyed the fire part, but why did the chemical have to be added to water in order to work?"
The Roadshow Team:
---
Laramie Junior High School Roadshow
On Monday, February 3rd, Rachel and Jaynie Welsh visited the Laramie Junior High School. We began the session by asking students to write 1-2 of the world's greatest problems on a post-it. Many students listed problems like pollution and trash. Jaynie and Rachel then told students about the collaborative research that they had done with Riverton Junior High students, the City of Riverton and the Inberg Miller Engineers to try to find solutions to an old landfill that is leaching chemicals (see news release 1 and news release 2) After seeing a landfill site map and hearing about the soil sampling process that Jaynie's research team had used, the students made hypotheses about how the expected microbial life to be affected by the landfill chemicals. Students then verified that there was a difference in microbial populations by looking at stained slides of bacteria from each site. Rachel and Jaynie worked with 7 classes and 270 students.
Quote from Jaynie: I was thrilled to take our research from last semester and apply it in this setting. To be able to funnel these students from "the world's greatest problem" to "I can be part of the solution" and see how engaged they were throughout was a wonderfully positive experience. It was promising to hear their hypothesis on the impact of landfills on the environment, and their observations of the different microbial populations pushed me to think further into the diversity that we see there.
Quotes from the LJHS educators:
"So often I feel like students are told of the world's greatest problems without knowing that they can be part of the solution."
"This presentation gave students the opportunity to think critically about pollution in landfills and become aware of their impact on our environment."
"It was exciting to see students learn not only how small things they do impact the world around them but also learn that there is something they can do to be part of the solution."
Quotes from the LJHS students:
"This made me think that we should take better care of our landfills."
"Many animals are endangered due to the waste we produce; this is also causing water to dry up, affecting humans."
"This is beneficial to science because it tells us how to treat the environment, and what we can do about it."
---
Riverton Roadshow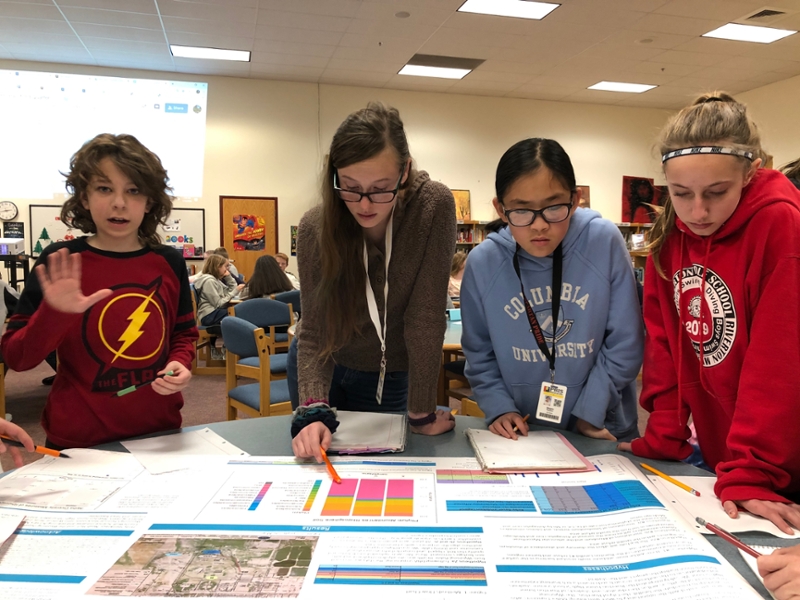 On Tuesday, January 14th and Wednesday, January 15th, the Science Roadshow engaged in active learning with the Riverton 6th, 7th and 8th graders. On Tuesday, Rachel and Roadshow graduate student Jessica Sutter visited Nanna Frazier's six classes and worked with 182 students! Students worked to master scientific writing skills. Using a matching game, students identified the important features of good science writing; they then identified these components in a sample piece of writing and finally, they did their own writing! One exceptional student wrote the following question, hypothesis and statement of significance:
Question:  What are the white foamy and multi colored spots that resemble spit found around plants and roots in the soil.
Hypothesis: I think that if we sampled this white foamy substance, we could figure out what it is and this would further our knowledge of our crops and soil health. 
Why is this significant: This is significant because the white spots around the plant roots in the soil could be a resource that we could use.  Maybe these spots around the roots and the soil are something that is helpful and desired.  Perhaps it could make our crops grow or maybe it is is bad.  Investigating this could further our understanding of our crops and even have medicinal purposes.  This is why investigating these white foamy spots and testing my hypothesis would prove significant. 
The last class of the day was Nanna Frazier and Tasya Ravellette's STEM class that has done the sustained, cross-level investigation of the Riverton Landfill. Together, the students, Roadshow instructors and middle school teachers engaged in a brainstorming session. The 7th graders envisioned their future projects, ways to engage the community in the work and ways to share the work.
On Wednesday, January 15th, Jessica Sutter, Cristilyn Gardner and Rachel worked with ~200 of Christina Bekken's 8th grade Physics and Astronomy students. Jessica led a mini lecture introducing students to concepts of exobiology. Students transferred their current knowledge of our own moon to their consideration of moons of other planets and the possibility that these moons could support life. Additionally, the students performed a scale calculation, determining the size of Titan (a moon of Saturn) in a scaled model. Finally, they observed hydrogen gas spectra using diffraction gradients to explore how astronomers use spectra to detect planets around other stars.
Quotes from the Riverton teachers and students:
"It is an amazing opportunity to have fellow educators join us and demonstrate their passion for learning.  Rachel and Jessica's enthusiasm is contagious, and the kids and teachers at RMS learned a lot from them.  It was an exceptional experience for all involved.  We learned new information and had fun doing it!"  ~Nanna 
"Working with the Science Roadshow Team has been an amazing opportunity for our kids. These students are a part of a truly authentic learning experience.  I thank Rachel, Jessica, and everyone else involved with the Roadshow for showing so much enthusiasm and helping our students enjoy learning." ~ Tasya Ravellette
"On Tuesday, I learned that to help get the community to help with the landfill, we can encourage the 4 R's more and make it fun for the community. I also want to encourage the 4 R's more at my house to be able to help people use the 4 R's more. I also enjoyed being able to help come up with ideas to get the community involved more, such as using the internet for making a website about our experience to not just encourage our community, but also communities around the world." ~Lexi, 7th grade student
"This experience was life changing and I learned so much from this opportunity. I learned science didn't just teach you it was also super fun and you can make some of the best memories. I also love how you can learn and store everything you learn so easily. One thing I was so surprised that I learned was that if you overuse antibiotics you can make bacteria immune. I can use the fact that you need to write about something that people are interested in, how you need to make words stand out to catch the readers eye . Thank you so Much to everyone we learned in this project so far this is an amazing opportunity for our future." ~Taylor, 7th grade student
"I really loved that I learned more about scientific writing and when we got to write our questions, down this has encouraged me to try to do some experiments on my own such as seeing how my plants have the white spots around the roots and what type of plant has them." ~Teagan, 7th grade student
"When I heard Rachel and Jessica were coming to visit, I was so excited! When Rachel comes, she always explains everything so well and always makes sure everyone  understands. It was fun to have  Jessica here as well because she was able to teach us about her profession and what she does. Thank you guys!" ~Addison, 7th grade student
Quotes from the Roadshow team:
"It was so much fun getting to work with a large group of enthusiastic learners!   The energy and excitement I felt in the classrooms reminded me of why I love science." ~Jessica
The Roadshow Team:
Jessica Sutter (PhD student in Physics and Astronomy from Oregon)

Cristilyn Gardner (PhD student in Physics and Astronomy from California)
---
Newcastle Roadshow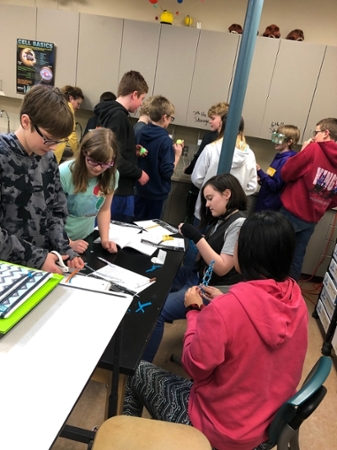 On Thursday, December 5th and Friday, December 6th, the LAMP/WRSP Roadshow traveled to Upton and Newcastle. Rachel and Tyler Myers spoke at the Upton and Newcastle High School assemblies on Thursday. They were joined by Jessica Sutter, Olivia Croft and Veronica Spaulding for a Thursday night community event at the Newcastle Lodge and Convention Center. On Thursday, all five Roadshow educators spent the day at Newcastle Middle School where they did active learning with Jody McCormack's 6th grade Earth Science and 7th grade Life Science classes. 
During the Earth Science classes, Jessica facilitated students to consider events that can change the surface of the earth. Students then considered how these shaping forces differ or are the same on other planets. Using Purdue's Impact Earth webpage, students changed parameters of meteors to see how this would affect the kind of planetary changes. Students then received images showing craters on different planets and they used these to order the surfaces from youngest to oldest. Jessica finished by explaining vulcanism on different planets and helped students discover why different terrestrial planets (Earth, Mars, and Venus) have such differently shaped volcanoes. 
Olivia led the life science students through the building of DNA. They selected a trait that they wanted their DNA to encode and in an action-packed 15 minutes, they built the DNA encoding for that trait and created a 1-minute jingle to explain their DNA and trait. What students did not know was that at seven minutes, Tyler and Olivia would flicker the lights and play disruptive music to indicate that a radiation event had occurred. Students were then asked to add one mutation into their DNA sequence. 
"I am still brimming with positive energy from our trip to Newcastle last week!  This was a truly incredible experience that I won't forget anytime soon!" - Jessica
The Roadshow Team:
Jessica Sutter (PhD student in Physics and Astronomy from Oregon)
Tyler Myers (Chemistry Major from Sheridan)
Veronica Spaulding (Chemistry Masters student from California)
Olivia Croft (Biology and Science Secondary Education major from Sundance)
---
Centennial Roadshow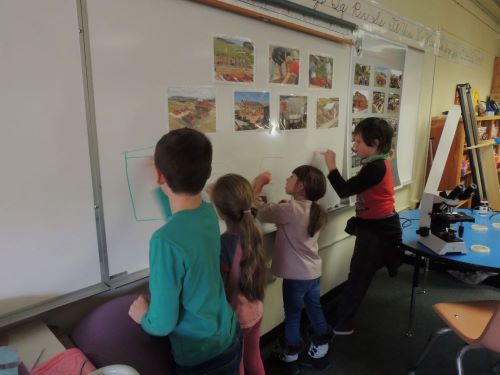 On Friday, November 15th, the LAMP/WRSP Roadshow Traveled to Centennial, Wyoming to do hands-on science with the seven K-5 students at the rural grade school. The students immersed in the integrated botany and microbiology of plant rhizospheres. They learned about how plants and microorganisms adapt together; they removed the soil from plant roots and observed the roots on a dissecting microscope. They then examined rhizosphere bacteria under a light microscope. Roadshow undergraduate and graduate students Ella DeWolf, Ben Romanjenko and Brandon Hays taught the students about their research regarding water-Lilly microbiomes, grape and cottonwood genetics and Interactions between ants, acacia trees, and elephants in Kenya.
---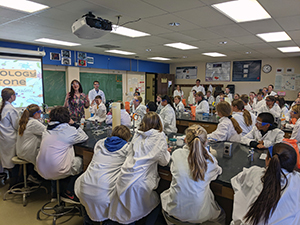 "Nearly sixty Riverton Middle School (RMS) students visited the University of Wyoming's campus Monday, Oct. 7, to learn about phytoremediation, which is the ability of plants to clean up soil, air and water contaminated with hazardous pollutants."  Access the full article here.
---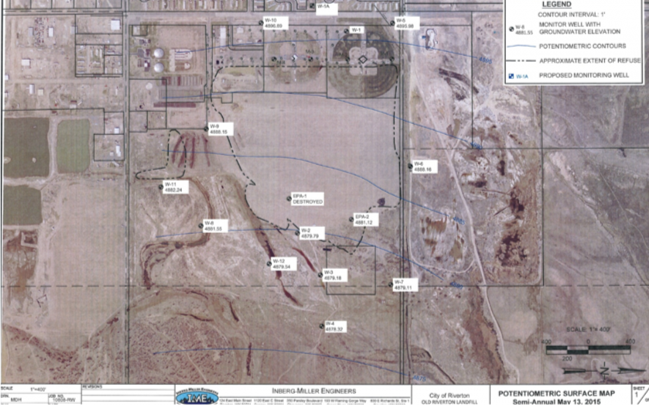 "STEM students at Riverton Middle School recently kicked-off their year-long project with the University of Wyoming's Science Initiative, City of Riverton, Ingberg Miller Engineers (IME) and Department of Environmental Quality (DEQ) to work on the former Riverton landfill remediation. So what's going on with the old landfill?" Access the full article here.

---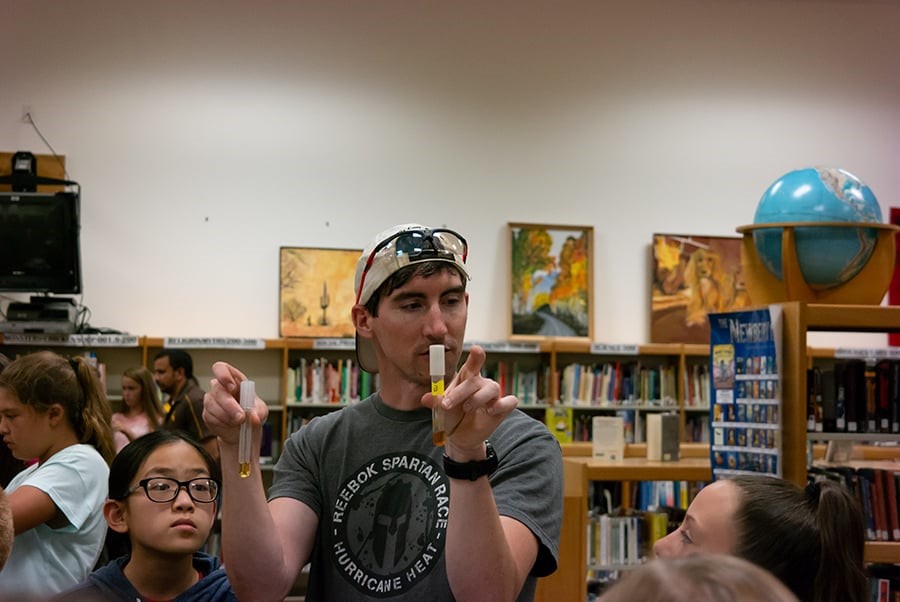 "Professor Rachel Watson and two graduate students from the University of Wyoming met with 60 Riverton Middle School students today to roll out a year-long school project. Students taking the STEM (Science, Technology, Engineering, Math) class this year will be focusing on the decomposition of waste at the former landfill in Riverton. Riverton Middle School Teacher Alma Law shared, 'The project will take all year and end with presentations next summer to the Wyoming Department of Education Roadmap to STEAM conference that will be held in Riverton…'" Access the full article here.

---