McLaughlin Named Director of Center for Economic Geology Research
January 31, 2022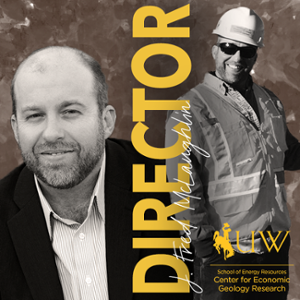 The School of Energy Resources (SER) has named J. Fred McLaughlin as the director of the Center for Economic Geology Research (CEGR). McLaughlin has served as the interim director of the center since June 2021.
"Dr. McLaughlin was a founder of the Center for Economic Geology Research over a decade ago" says Holly Krutka SER executive director. "From those early days, CEGR has grown into an internationally respected research team, and I am impressed by their accomplishments each and every day. CEGR has built a collaborative culture, focused on SER's mission to benefit Wyoming, and works effectively with industry partners, state officials, UW faculty, staff and students and other collaborators. With exceptional in-house experts like Dr. McLaughlin already on staff, the best option was clearly to promote from within and I'm grateful to him for accepting this role. With him leading the team, I fully expect the best is yet to come."
In his capacity as the interim director, McLaughlin has managed a growing team of research scientists in CEGR who have successfully competed for over $35 million in federal funding in the last five years on topics ranging from CO2 storage, oil and gas production, rare earths and critical materials, lithium, precious metals and more.
The group is collectively focused on making Wyoming a leader in these fields and advancing the knowledge and expertise required to achieve commercialization.
McLaughlin has also overseen the activities under Phase III of the Wyoming CarbonSAFE Project, including the recent drilling of a second test well at Basin Electric Power Cooperative's Dry Fork Station near Gillette, Wyo.
"I am very grateful to be afforded the honor of leading such a wonderful team of scientists," says McLaughlin. "I am especially lucky to be given this opportunity during a period where all that CEGR has built is continuing to grow."
McLaughlin earned his B.S., M.S., and Ph.D. from the University of Wyoming in Geology and Geochemistry and is a licensed professional geologist. He has been with the School of Energy Research since 2012 and was a founding member of CEGR (formerly known as the Carbon Management Institute). Prior to joining SER, he worked as a Geologic Analyst and Manager for the Wyoming State Geologic Survey for eight years.