Frequently Asked Questions
Questions about life in the MSW Program
Q: When does the program start?
A: We begin in summer term. There is only one required summer class for the standard program, and two for the advanced-standing program. Summer courses meet face-to-face on intensive week-ends, via asynchronous online, or via Zoom. No classes are held in the evenings during the summer.
Q: Would I be in the standard or advanced program?
A: The advanced-standing program is for those with a bachelor's of social work (BSW). The standard program is for those with any other bachelor's degree.
Q: My degree is in something other than the human services field. Will I fit in? Or will I struggle in the program?
A: We mostly have applicants come to us with criminal justice, psychology, sociology, family and consumer science, and nursing degrees, but it is not uncommon to have a few students every year from unrelated backgrounds, such as STEM fields. We find that students from unrelated disciplines do not do any better or worse than those from human services fields.
Q: Is the program online?
A: The MSW program is a hybrid model. We offer a combination of face-to-face, Zoom and online classes. However, there is not an option to take the program solely online.
Q: Do I have to live in Wyoming to attend the MSW program?
A: Not necessarily, but you do need to live close enough that you can get to Laramie for intensive weekends. Attending classes in-person for intensive weekends is required. For classes held during the week, students can Zoom into classes.
Q: How is the program structured?
A: MSW classes take place on nights and weekends. Night classes take place weekly, 1-3 times per week, Monday through Thursday, from either 4-7 pm or 7-10 pm (though we always try to schedule the 4-7 slot whenever possible). These classes are available in person for students in Laramie, and via Zoom, which can be accessed from your home or anywhere with a reliable Internet connection. Intensive weekend classes take place 3 times during summer semester, 5 times in fall, and 5 times in spring. Classes on intensive weekends begin on Friday at noon and run until 5:30 pm on Sunday. Intensive weekend classes are mandatory and must be attended in person in Laramie.
Q: Can I continue to work while in the MSW program?
A: If there is a need for a student to work, we recommend you work part time only while in the program. We find that when students try to work full time, they either do not succeed in the program or they get very burned out.
Q: What does the course schedule look like?
A: You can find the curriculum and more in the Current Students portion of our website.
---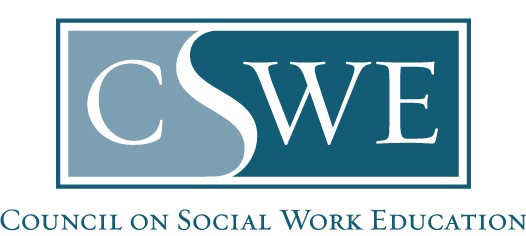 The Council on Social Work Education (CSWE) would like you to explore Social Work. Their web portal contains information on discovering social work, preparing for your education and how to begin your studies. Improve Lives - Strengthen Communities - Promote Justice. 
---
Questions about Admissions
Q: When are applications due?
A: Applications are always due on November 8 prior to the summer you want to begin. For example, if you'd like to be considered for the cohort beginning in June 2022, your application is due November 8, 2021.
Q: What do you look for in an application?
A: A complete application will have the MSW Application Information Sheet, the online application, a resume, unofficial transcripts, a personal statement, an academic essay, and three letters of reference from professional sources. Prompts, templates, and instructions can be found on our website. In the resume, faculty look for experience in the human services field. For applicants coming from disciplines in other fields, volunteer experience in human services is helpful and is strongly encouraged. Transcripts must reflect an overall undergraduate GPA of 3.0 or above. If your GPA is under 3.0, your personal statement need to address circumstances surrounding a lower GPA, and volunteer and/or work history, writing, and recommendation letters should be as strong as possible. Faculty review applicant material based on writing that reflects an ability to organize thinking and ability to use the English language well, including grammar, spelling, and sentence structure. Correct use of APA in writing scholarly papers is required; the academic essay for the application is a scholarly paper. All application materials are to be submitted online, including letters of recommendation.
Q: Do you require the GRE?
A: No. Instead of the GRE, applicants are required to write an academic essay.
Q: I am an international student. How will my application process differ from a domestic student?
A: If you are a resident of a country whose official or co-official language is English, you do not have to submit a TOEFL/IELTS score. If you are not a resident of a country whose official or co-official language is English, you will have to submit a copy of your TOEFL/IELTS exam results with your transcripts. We will have your transcripts evaluated by the International Students and Scholars Office, and we will be in touch regarding any further documentation you need to provide or steps you need to take.
Q: What is the admissions process like?
A: Applications are due in November. Everything must be turned in electronically by that date. If something is submitted late, it will be marked as such, and the faculty will take this factor into account when evaluating your application. The one exception to this is the recommendation letters. We will not punish an applicant for their recommender's lateness. However, if your recommender is significantly late in turning in your letter, you may be asked to choose a different recommender.
All completed applications are reviewed by at least two faculty. The faculty reviewers recommend whether the applicant should be admitted or not. Faculty reviewers do not know the recommendations of other reviewers. If the two faculty reviewers do not agree on whether to admit or not, the packet is reviewed by a third faculty member.
Once the initial reviews are completed, the MSW committee meets to review all files. The committee may or may not request an interview with an applicant via zoom; not all applicants will be interviewed. Applicants may be accepted whether or not they are invited for an interview. Once faculty complete review of applicant files, the MSW committee meets to make final decisions. Applicants are notified of decisions generally by mid-March.
Q: I have not taken one or both of the prerequisites. Can I still apply?
A: Absolutely. Prerequisites must be completed before you begin your first fall in the program. Many applicants prefer to wait to complete their prerequisites over the summer, after they have received our decision.
Q: How do I know if I need to take prerequisites?
A: If you are an advanced-standing applicant, you are not required to have prerequisites. If you are a standard program applicant, you will need to have Human Biology (anatomy) and Statistics. If you are unsure if your classes will count toward one or both of the prerequisites, please email a copy of your transcripts to sowkmail@uwyo.edu and ask that they be reviewed for prerequisites.
Q: I will graduate the May before the start of the MSW program. Can I apply before I obtain my bachelor's degree?
A: Absolutely. If admitted, your admission is contingent upon successful completion of the bachelor's degree by the beginning of the program. If graduating from a school other than University of Wyoming, please have final transcripts submitted to UW after all your grades are in and the degree is reflected on your transcripts.
Q: Can I mail my application to you?
A: No, everything must be turned in electronically through the admissions portal on our website. However, if you have trouble submitting your materials, please email sowkmail@uwyo.edu and ask for assistance.
Questions about Tuition and Fees
Q: How much does the program cost?
A: Tuition and fee estimates can be found on Financial Aid's website. Please note, their estimate is for 9 credits per semester. Standard program students will have 3 credits during summer, 16 their first fall and 15 their first spring. Students in our advanced-standing program carry 6 credits in summer; all students in their second/advanced year of the program carry 16 or 17 credits in fall, and 16 or 17 in spring (the 16 or 17 depends on whether you choose a Plan B or Thesis as your final project).
Q: I am a resident of a state other than Wyoming. How does residency affect my tuition?
A: The University of Wyoming participates in the WICHE program. If you are a resident of a WICHE state, you will be eligible for in-state tuition as a graduate student at the University of Wyoming. Please contact Financial Aid for more information. If you are not a resident of Wyoming and not a resident of a WICHE state, you must pay out-of-state tuition.
Q: What kind of financial assistance is available?
A: The Division of Social Work is fortunate to have generous alumni, who have allowed us to give out over $15,000 total in financial assistance per year. We also have a number of graduate assistant positions in Casper and Laramie available every year. You must apply for scholarships and graduate assistantships. Application materials and deadlines can be found on our website. Both are need-based awards. Scholarships are allocated in varying amounts to individual students. Graduate assistantships are awarded as either half or full awards; half awards pay for 5 credits of tuition, half of your mandatory student fees, half health insurance if you want it, and a monthly stipend, for 10 hours of work per week. Full awards pay for 9 credits of tuition, full mandatory student fees, full health insurance if you want it, and a monthly stipend, for 20 hours of work per week. Most graduate assistantships are awarded as half-time positions.
Questions about Field Education
Q: I have a job that I think would work well as a field placement. Can I be placed at my job?
A: This is a possibility, but it is the exception, rather than the rule. You will need to petition the Field Committee to allow your employment placement. Please see the Field Practicum Handbook for more information.
Q: Are there paid field placements?
A: Very rarely, we get the opportunity for a paid placement. This is highly irregular and should be considered a bonus rather than an expectation.
Q: I have a work schedule that is heavier during the academic year and lighter in the summer. Can I take my field placement over the summer instead of during the school year?
A: Circumstances for which summer placements are allowed are very rare. Please refer to the Field Practicum Handbook for the full policy.
If you have questions about any of the above information, or if you have questions that are not listed above, please don't hesitate to contact us at sowkmail@uwyo.edu. We understand that pursuing a graduate degree can be a daunting process, and we're here to help!