Contact Us
Institutional Communications
Bureau of Mines Building, Room 137
Laramie
Laramie, WY 82071
Phone: (307) 766-2929
Email: cbaldwin@uwyo.edu
Tyler Kerr Named UW Staff Employee of Second Quarter
July 20, 2020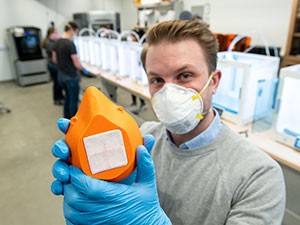 Tyler Kerr
From his early experiments burying chicken bones in the backyard in a failed attempt to dig them up later as fossils, to taking apart the family's old cathode-ray television to see how it works, Tyler Kerr has always thought of himself as a curious maker, scientist and educator.
But, Kerr -- the UW makerspace coordinator in the University of Wyoming's Student Innovation Center (SIC), located in the new Engineering Education and Research Building -- today is known more as the person who has led a UW student team of volunteers on the front lines of the monthslong COVID-19 pandemic battle. The team is producing personal protective equipment (PPE) using the SIC's 3D printers and laser cutters.
Since early March and as of last week, Kerr and his students in the UW College of Engineering and Applied Science's makerspace have now printed a total of 4,871 protective masks and face shields for 43 medical centers and schools throughout the state. After a much-needed break, Kerr and his students are back in production. They will soon add a new product: small protective face shields for children.
Those tireless efforts have led to Kerr being named UW's Staff Employee of the Second Quarter.
The award recognizes a UW staff member for his/her efforts toward excellence in the workplace. Established in March 1985 to recognize outstanding staff as the Employee of the Month Award, the award was revised into the current program in January 1990. The award is given to one current UW staff member every calendar quarter. The staff employee of the year will be named at Staff Senate's Recognition Day celebration next spring semester.
Kerr, originally from Massachusetts, has been at UW since August 2013, initially as a master's degree student in the Department of Geology and Geophysics. He received his undergraduate degree at Franklin & Marshall College in Lancaster, Pa., majoring in geoscience.
He earned his UW master's degree in geology, with a focus on paleontology, through the mentorship of Professor Mark Clementz. During the three years of his master's program, he also worked for the UW Geological Museum under the guidance of Research Scientist Laura Vietti. While at the museum, he hosted tours, built engaging outreach and K-12 programming, planned exhibitions, prepped fossils and designed various projects.
After his graduate program, he worked in UW's Coe Student Innovation Center's makerspace before moving operations to the SIC, where he has been the coordinator for the past year.
"I can happily state that I have absolutely loved coming to work every day for the last three years," Kerr says. "The ever-changing atmosphere of the makerspace and the new and exciting challenges are what make the role so engaging."
A colleague admires Kerr's ability to manage a team of student workers, while running a large suite of complex and expensive equipment.
"He has responded with enthusiasm and energy to all tasks and requests," the colleague says. "Tyler continually tweaks and improves the policy, procedures and safety standards for a diverse workshop-type of environment. Every time I have thought of some potential improvement, he is already on top of it."
Another nominator praises Kerr's ability to mobilize a team to help fight against the COVID-19 pandemic, saying he has provided much-needed leadership "in a time of crisis."
"He coordinated with more than 170 people and organizations to be sure he was making what they really needed, and that it was up to the medical-grade standards necessary," another nominator adds. "He's made a huge contribution and positive impact, not just on the campus, but across the entire state.  This needs to be recognized."
Kerr admits that the nearly five-month project has been "invigorating and exhausting," but has been meaningful as he spearheads the statewide PPE project. The UW makerspace is part of the statewide Wyoming Technology Coronavirus Coalition.
"I think, more than anything, it has helped to highlight how resilient and unified the people of Wyoming truly are. I cannot imagine such a grassroots effort being as successful in any other state as it has been here," he says. "Neighbors have looked after neighbors; medical professionals have gone above and beyond; communities have rallied together to make masks and shields; children and educators have raised money, collected supplies or reached out to see how they can help in all types of ways. Our state may be one of the largest and least populous, but it is clear that our communities are among the most close-knit."
Kerr adds that he is humbled by the UW staff award and gives plenty of credit to his 10 student volunteers.
"The students have been here in the trenches with me since day one, and have proven again and again to be some of the hardest-working people I know," he says. "So, credit goes to them, as well, for their dedication and selflessness."
An Employee of the Quarter nominee can be any UW staff employee, and each must receive three nomination forms from three separate individuals. Nominations must be submitted to the Staff Senate office. The forms are on the web and can be found here.
For more information, call the Staff Senate office at 766-5300.
Contact Us
Institutional Communications
Bureau of Mines Building, Room 137
Laramie
Laramie, WY 82071
Phone: (307) 766-2929
Email: cbaldwin@uwyo.edu