Contact Us
Institutional Communications
Bureau of Mines Building, Room 137
Laramie
Laramie, WY 82071
Phone: (307) 766-2929
Email: cbaldwin@uwyo.edu
UW's Kempson Honored for Half Century of Commitment to Social Work Profession
March 28, 2022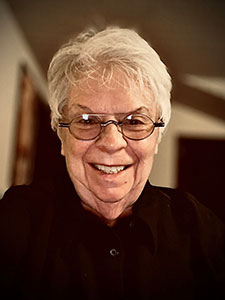 Diane Kempson
Diane Kempson, an associate professor and director of the Master of Social Work (MSW) Program at the University of Wyoming, was honored by the National Association of Social Workers' (NASW) Wyoming chapter during its annual awards ceremony earlier this month.
As the recipient of the Greatest Contribution to Social Work Practice award, Kempson was recognized for over 50 years of commitment to the values and work of the social work profession. Kempson was nominated by a number of UW faculty members and former students.
Kempson began her career as a practicing social worker in South Carolina, New York and Idaho before entering a full-time academic career at UW in 2004. She has published numerous articles on grief and loss, presented a number of professional papers, and has taken the lead in conducting a variety of effective educational trainings.
"As a social work educator, she has been responsible for educating and mentoring several generations of social workers for advanced generalist social work practice in rural and frontier settings," says Eleanor Pepi Downey, director of UW's Division of Social Work. "Students and faculty hold her in high regard for her tireless commitment to social justice and anti-oppressive practice."
Among the comments from students who studied with Kempson were:
-- "She pushed me and allowed me to grow in ways I could have never imagined."
-- "Diane really encouraged us to show up with our whole selves and to not shy away from talking about the big, important things in our lives and our lives in general."
-- "I owe much of my achievement to Diane, thanks to her patience, her commitment and her fierce belief in students."
In 2010, Kempson was promoted to associate professor and assumed a leadership role as director of the MSW Program. In this role, Kempson has guided graduate-level students to assume leadership roles in social work in Wyoming and nationally. A number of them went on to complete their doctoral degrees and become social work educators and researchers.
Kempson also is credited with developing a curriculum for the MSW Program that is theoretically sound and effectively practical in preparing students for the challenges of social work practice.
"I truly value Diane's insights and intellect, not only about social work education, but also the challenges of today's practice settings," Downey says. "She has challenged me to think more critically and increased my understanding of the meaning of social work practice from a just practice and anti-oppressive perspective."
The Wyoming chapter's primary focus is to provide support to its members serving in rural communities throughout the state. Services include professional development, legislative advocacy, member support and resources, and providing opportunities for professional networking.
To learn more about UW's Division of Social Work, visit www.uwyo.edu/socialwork.
Contact Us
Institutional Communications
Bureau of Mines Building, Room 137
Laramie
Laramie, WY 82071
Phone: (307) 766-2929
Email: cbaldwin@uwyo.edu