Faculty and Staff
Eric Moody
Eric Moody, PhD, is an Assistant Professor of Psychiatry. He received his doctorate in Social Psychology and Developmental Cognitive Neuroscience from the University of Denver in 2007. The focus of his research there was on shared interpersonal emotions and psychophysiology. Midway through is training, he was exposed to autism and became interested in how the basic psychological mechanisms he was studying are related to the autism phenotype. This interest led him to collaborate with JFK Partners, a University Center for Excellence in Developmental Disabilities Education, Research, and Service (UCEDD), and a post-doctoral fellowship in autism assessment and public health/epidemiology at the University of Colorado Denver Anschutz Medical Campus. Following this postdoc, he joined the Faculty of the Department of Psychiatry, and expanded his research to include public health, community based participatory research and health disparities.
 
Dr. Moody is involved in several research projects that study autism at multiple levels. He was Co-Principal Investigator on a grant that developed and tested a parent-based mentoring program to improve well-being in families who have children newly diagnosed with autism. He is a Co-Investigator for the Study to Explore Early Development (SEED), the largest study of its kind exploring the causes of autism. He is faculty for CU's Leadership Education in Neurodevelopmental Disabilities (LEND) training program and Director of the LEND Spiritual Care Discipline. He is the Director of Research and Evaluation at the Wyoming Institute for Disabilities, where he is leading efforts to develop a novel model of family support using the Extension for Community Health Outcomes (ECHO) model. Finally, he is involved in many other research projects at JFK Partners and WIND that are focused on supporting individuals with developmental disabilities and their families.  
 
Dr. Moody's research interests include uncovering the basic mechanisms of social impairment in autism by using psychophysiological methods (e.g., electromyography), exploring novel community based interventions for those with developmental disabilities, especially for underserved groups (e.g., Hispanic and rural families), and using observational methods better understand the social factors that contribute to developmental disabilities outcomes.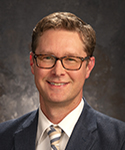 Eric Moody
Director of Research and Evaluation
CHS 137A
(307) 399-3168 | eric.moody@uwyo.edu