CURRENT PRODUCTS:
Caring with Confidence is a program designed to educate Certified Nursing Assistants (CNAs) and other direct care workers on how to manage challenging behaviors that are often associated with dementia.  The program focuses on the factors contributing to problem behaviors and non-medical interventions including strategies to handle wandering, agitation, and inappropriate sexual behavior.  The training also includes information about caregiver stress and strategies to prevent burnout. The DVD training series can now be purchased for only $95.00.  Please click here for more information. 
Aging in Wyoming: An Atlas of Resources Targeting Wyoming's Older Adults (COMMISSIONED BY THE WYOMING DEPARTMENT OF HEALTH, AGING DIVISION): Planning for the future of aging in Wyoming will require accurate information about the number of older adults in the state, and where they reside. Wyoming's unique geographical features create challenges with respect to dispersing resources equitably within the target population, particularly to those who live in extremely remote areas. We believe the outputs of this project will serve to inform policymakers and professionals who serve older adults to advise decisions about what areas need funding and priority, and in which geographical locales they are needed.  Click here to download the complete document

Aging Brain Subject of Wyoming PBS Documentary
Steps people can take to preserve the health of their brain as they age is the focus of a television documentary on Wyoming Public Television.  University of Wyoming and statewide experts share positive messages about the aging brain in the 30-minute documentary, "Gray Matters: Exploring the Mature Mind," produced by the Wyoming Geriatric Education Center (WyGEC)- now WyCOA, in the UW College of Health Sciences.  UW personnel featured in the documentary include Deb Fleming, WyGEC founding director; Christine McKibbin, WyGEC director and assistant professor in the UW Department of Psychology; Dr. Kristina Stefka, former faculty physician at the UW Family Practice in Cheyenne; and recent social work department graduate Pat Engler-Parish.  WyGEC produced the documentary with financial support from the UW Division of Social Work, Richard Chatham, the Wyoming Department of Health Office of Multicultural Health and Cheyenne Regional Medical Center. The documentary was made with in-kind support from AARP Wyoming and the St. John's Institute for Cognitive Health in Jackson.  Click here to view the Gray Matters video.  To request a DVD, contact the WyGEC office at wygec@uwyo.edu or 307-766-2829.
Video: Surprising Life of the Grown Up Brain.  Following a second airing of Gray Matters, on November 10, 2011, Wyoming PBS interviewed four experts, including Deb Fleming, on Wyoming Perspectives. Bob Beck moderates, and panelists include Dr. David Wheeler, Neurologist,  Dr. Deb Fleming, Director of WyGEC, Alice Burron, exercise physiologist and wellness specialist with Wyoming Health Fairs; and Tim Summers, director of AARP Wyoming. Topics include misconceptions about the aging brain, keeping the brain healthy and Alzheimers Disease.
Survey of Wyoming Older Adults

:  Survey conducted by AARP and WyGEC in 2009 to determine "if Wyoming residents age 50 and over are able to access adequate information to make adequate decisions, whether information from outside sources is filling the gap left by reduced face-to-face time with physicians, and how a person's health literacy impacts their health care experience."  Wyoming Health Information Survey of Residents Age 50 and Older
RESEARCH:
The WySTAAR Registry is a database of Wyoming Residents over age 55 who are interested in volunteering for research studies at the University of Wyoming (UW).
The Wyoming Parkinson Project is seeking to build a stakeholder group to identify and explore the big picture of Parkinson's Disease in Wyoming.
SERVICES FOR OLDER ADULTS/CAREGIVERS
The Wyoming Center on Aging offers limited clinical services for older adults and their caregivers. Clinical services offered include the Geriatric Assessment Team at the University of Wyoming Family Medicine Residency Program in Casper. Educational groups for caregivers of individuals with Alzheimer's Disease will be offered through WyCOA. As WyCOA continues to grow, clinical services will continue to expand.
Healthy U is a health promotion program designed to help anyone over the age of 18 play an active and productive role in their own health management. Anyone is welcome to participate; those who suffer from one or more chronic illnesses may find Healthy U particularly useful. Caregivers and friends of those who would benefit from health self-management also make great participants.  CLICK HERE for more info or contact wycoa@uwyo.edu, or (307) 766-2829 for programs in your area!
"Our Family Journey" workshops are provided to caregivers (professional and family) with a focus on dementia, and is a delivered once per week for 4 weeks. Topics covered in the workshop include starting the journey together with support, changing difficult behaviors, communication, and planning for the future.  Contact wycoa@uwyo.edu, or (307) 766-2829 for programs in your area!
Geriatric Assessment Team - Casper
The Geriatric Assessment Team (GAT) is located at the University of Wyoming Family Medicine Residency in Casper. The team consists of a family medicine physician, family medicine resident, social worker/case manager, occupational therapist, physical therapist, and pharmacist. Patients are referred by community agencies or other health care providers, and are seen by the doctor and a family medicine resident and then their case is presented to the team.   Each discipline listens to the case and makes recommendations based on their expertise.  Examples of things the Geriatric Assessment Team can be helpful with include: weight loss, fall prevention, problems driving, progressing dementia with need for placement, and patients with multiple hospitalizations.  Through team interventions the GAT addresses medical problems, often evaluate the home setting, get to know social support systems, and place patients/families in touch with necessary community resources.  Whatever the presenting issue this team of healthcare professionals with expertise in geriatrics is committed to and knowledge of the unique challenges of our aging population.  Please email wycoa@uwyo.edu for more information on this opportunity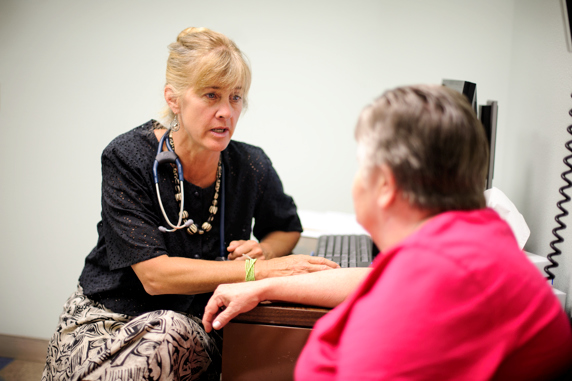 Caregiver Education Class
Providing care to a loved one with dementia is like running a marathon.  Caregivers must be prepared to run the distance and learn the ups and downs and lay of the land. A caregiver education class will teach you skills for managing behavioral challenges, frustrations, and increase your self-care and sense of wellbeing. WyCOA has self-study caregiving materials available.  Click here to learn more about the Savy Caregiver curriculum.