Wyoming Natural Diversity Database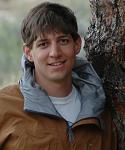 Our staff:
Ian Abernethy, Vertebrate Zoology Program Manager
307-766-3035  |  fisher@uwyo.edu
October 2011 to present: Responsible for managing and conducting field research projects for sensitive animal species across Wyoming. Current projects include monitoring songbirds and bats across Wyoming.
---
Education
B.S. Biology and Environment and Natural Resources, University of Wyoming, December 2004.
M.S. Zoology and Physiology, University of Wyoming, May 2011. Thesis: Independent and Interactive Effects of Anthropogenic Disturbance and Habitat on Small Mammals.
---
Research Interests
Wildlife ecology, conservation biology, anthropogenic disturbance, wildlife habitat selection.