Zoology and Physiology
College of Arts and Sciences
Kara Pratt
Associate Professor
Kpratt4@uwyo.edu
Office: BS 209B
 
(307) 766-5589
Education:
B.A.S.                             University of Delaware
Ph.D. in Neuroscience       Brandeis University
Postdoctoral                    Brown University and University of Washington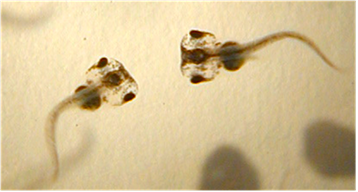 Research interests:
Neurons have the amazing ability to self-organize into highly refined networks. I am interested in how these networks form. I am especially interested in the molecular pathways underlying this process. My lab studies these questions in the developing visual system of the Xenopus laevis tadpole. Because these tadpoles are transparent and their developmental stage readily identified, we are able to image and record the electrical activity in individual neurons at different stages in circuit development. Previously we observed naturally occurring changes in electrical properties expressed by neurons across key developmental stages. Currently we aim to understand how these changes are brought about and their significance in the context of proper neural circuit development.  
Publications:
Liu, Z., Thakar, A., Santoro, S.W., Pratt, K.G. (2018b) Presenilin regulates retinotectal synapse formation through EphB2 receptor processing. Dev Neurobiol. doi: 10.1002/dneu.22638.
Liu, Z., Donnelly, K.B., Pratt, K.G. (2018a) Preparations and protocols for whole cell patch clamp recording of Xenopus laevis tectal neurons. J. Vis. Exp. 133 doi: 10.3791/57465.
Hamodi, A.S., Liu, Z., Pratt, K.G. (2016) An NMDA receptor-dependent mechanism for subcellular segregation of sensory inputs in the tadpole optic tectum. Elife  doi: 10.7554
Pratt, K.G., Hiramoto, M., Cline, H. (2016) An evolutionarily conserved mechanism for activity-dependent visual circuit development. Frontiers in Neural Circuits 10:79. Review.
Truszkowski, T.L., James, E.J., Hasan, M., Wishard, T.J., Liu, Z., Pratt, K.G., Cline, H.T., Aizenman, C.D. (2016) Fragile X mental retardation protein knockdown in the developing Xenopus tadpole optic tectum results in enhanced feedforward inhibition and behavioral deficits. Neural Dev 11: 14 doi: 10.1186/s13064-016-0069-7.
Liu, Z., Hamodi, A.S., Pratt, K.G. (2016) Early development and function of the Xenopus tadpole retinotectal circuit. Curr Opin Neurobiol 41: 17-23. Review.
Pratt, K.G., Prather, J.F. (2016) Systems Neuroscience: How the cortex contributes to skilled movements. Curr. Biol. 26, 64-66.
Liu, Z., Ciarleglio, C.M., Hamodi, a.S., Aizenman, C.D., Pratt, K.G. (2016) A population of gap junction-coupled neurons drives recurrent network activity in a developing visual circuit. J Neurophysiol. 115, 1477-86.
Pratt, K.G. (2015) Finding order in human neurological disorder using a tadpole. Current Pathobiology Reports, 3,129-136.
Hamodi, A.S., Pratt, K.G. (2015) The horizontal brain slice preparation: a novel approach to visualizing and recording from all layers of the tadpole tectum. J. Neurophysiol. 113, 400-407.
Hamodi, A. S., Pratt, K.G. (2014) Region-specific regulation of voltage-gated intrinsic currents in the developing optic tectum of the Xenopus tadpole. J. Neurophysiol. 112, 1644-1655.  
Pratt, K.G., Khakhalin, A.S. (2013) Modeling human neurodevelopmental disorders in the Xenopus tadpole: from mechanisms to therapeutic agents, Dis. Models Mech. 6, 1057-65.
Pratt K.G., Zimmerman E.C., Cook D.G., Sullivan J.M., (2011). Presenilin 1 regulates Homeostatic synaptic scaling through AKT signaling. Nat. Neurosci. doi:10.1038/nn.289
Pratt K.G., Zhu P., Watari H., Cook D.G., Sullivan J.M., (2011). A novel role for gamma- Secretase: selective regulation of spontaneous neuro-transmitter release from hippocampal neurons. J. of Neurosci. 31(3), 899-906.
Pratt K.G., Aizenman C.D. (2009). Multisensory integration in mesencephalic trigeminal neurons in Xenopus tadpoles. J. of Neurophysiology 102(1), 399-412.

Dong W, Lee RH, Xu H, Yang S, Pratt K.G., Cao V., Song Y.K., Nurmikko A., Aizenman C.D. (2009) Visual avoidance in Xenopus tadpoles is correlated with the maturation of visual responses in the optic tectum. J. of Neurophysiology 101(2), 803-15.
Aizenman C.D., Pratt K.G., There's more than one way to scale a synapse. Neuron preview 2008 June; 58: 651-653.
Pratt K.G., Dong W., Aizenman C.D. (2008). Development and spike timing - Plasticity of recurrent excitation in the Xenopus optic tectum. Nature Neurosci. 11(4), 467-75.
Pratt K.G., Taft, C.E., Burbea M., Turrigiano, G.G. (2008). Dynamics underlying synaptic gain between pairs of cortical pyramidal neurons. Developmental Neurobiol. 68(2),143-51.
Pratt K.G., Aizenman, C.D. (2007). Homeostatic regulation of intrinsic excitability and synaptic transmission in a developing visual circuit. J. of Neuroscience 27(31), 8268-8277.
Pratt K.G., Watt A.J., Griffith L.C., Nelson S.B., Turrigiano G.G. (2003). Activity-dependent remodeling of presynaptic inputs by postsynaptic expression of activated CaMKII. Neuron 39, 269-281.