UW Alumni Association
Talk About Your Cowboy
---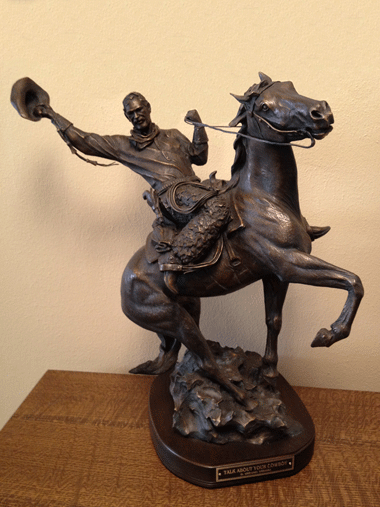 The Project
In April 2007, the University of Wyoming Alumni Association (UWAA) Board of Directors commissioned a sculpture that would bid a welcome to those visiting campus and a farewell to those who would soon return. The artist chosen, UW alumnus D. Michael Thomas of Buffalo, WY, has been producing Western-themed bronzes for over a decade. Thomas was given creative freedom in sculpture design, and, in September 2007, Talk About Your Cowboy was approved by the board. The larger than life horse and rider depicts classic cowboy iconography of the American West with a hats off salute to current students, campus visitors, and alumni. Talk About Your Cowboy was installed on the Alumni House lawn in fall 2008. 
The Artist
D. Michael Thomas produces bronzes, ranging in size from miniature to life-sized, that capture the essence of the American West he knows and loves. His studio is a modified barn outside of Buffalo, Wyoming.  Thomas grew up working on ranches in Western Wyoming where he labored alongside old-time cowboys who shared their stories and humor with him. The subjects of Thomas' bronzes are drawn from his own experiences, or they recall events he participated in or witnessed firsthand. 
Available for Purchase
You can purchase a 14" or 24" version of the sculpture at $3,500 or $7,500.
Email us to request additional information about sculpture sales or call (307) 766-4166.