Construction Management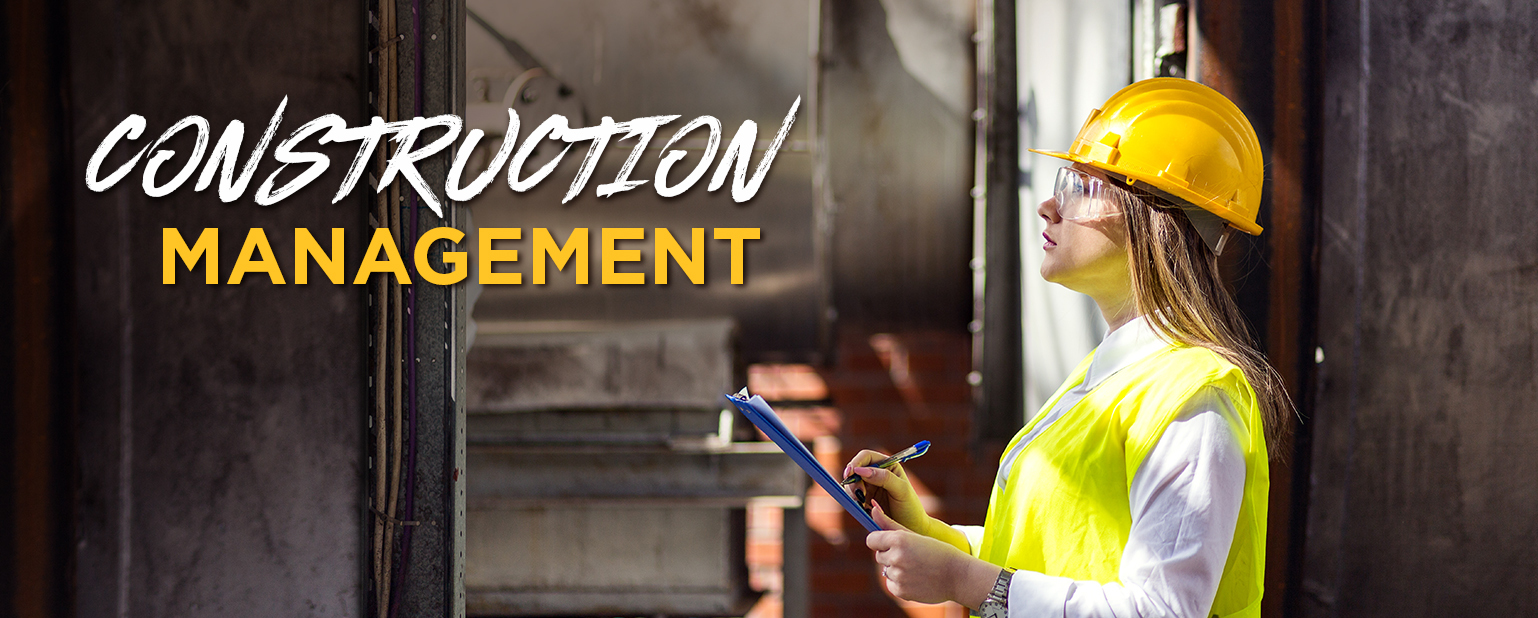 Undergraduate Student Information
The University of Wyoming Construction Management program is one of the Department of Civil and Architectural Engineering and Construction Management's fastest-growing programs. We offer hands-on training and opportunities for students to earn certifications alongside their studies in this booming industry.
---
Prospective Students
We are accepting students for the upcoming semester for a Bachelor of Science in Construction Management. We also offer a minor and certificate for students seeking additional training or concurrent studies.
---
Current Students
Our current students are the pioneers of this growing program. We have created a portal for additional resources including information about academic advising, scholarships and our Construction Management student organization.
---
Teaching Spaces
Join us on a quick tour of the spaces that as a Department of Civil and Architectural Engineering and Construction Management student you will enjoy during your time at the University of Wyoming.
---
Student Clubs & Involvement
Student organizations within the Department of Civil and Architectural Engineering and Construction Management are a great way to get involved. These opportunities exist to foster professionalism, develop networking opportunities, and create lifelong friendships while enhancing the curriculum and building a strong sense of community. 
---
Student Spotlight
Every Construction Management (CM) student has their own unique story about who they are, where they come from and what this program means to them.
We invite you to meet some of our current Construction Management (CM) students.
 

ANDREAS LIPP

Hometown: Virginia

Clubs & Involvement: Construction Management Club; Pi Kappa Alpha Fraternity; Interfraternity Council

Why I Joined the CM Program and What it Means to Me: When I first came to UW, I was studying Architectural Engineering and wanted to focus in Construction Management. I was always interested in vertical construction but after my freshman year something just wasn't clicking with my major. It was that I discovered the Construction Management degree program. Ever since I changed majors, I've been excited to learn and couldn't be happier with my choice.

What I'm Excited For and Looking Forward to with CM: I'm excited to see the Construction Management program grow so others can have the same enjoyment for learning as I have. I am also looking forward to my Internship with James G. Davis Construction this summer that I would not have been able to pursue without the education and training the Construction Management program has provided me.

 

 

SHANNON KENNY

Hometown: Colorado

Clubs & Involvement: UW Equestrian Team; Phi Sigma Rho Sorority

Why I Joined the CM Program and What it Means to Me: I didn't always know CM is what I wanted to do. I started out as a Civil Engineering major at UW. After doing a transportation internship my freshman year I realized I really liked field work. I also liked seeing a project go from start to finish rather than just contributing to a small part and being done. My best friend convinced me to look into CM and since then I've never looked back.

What I'm Excited For and Looking Forward to with CM: I am looking forward to helping grow the community of women in CM at UW. I am also excited that I'll have a career that will lead to a job where I can apply what I've learned.

 
 

 

SHANE WOODS

Hometown: Oklahoma

Clubs & Involvement: Wrestling (2015); University of Wyoming Police Department 

Why I Joined the CM Program and What it Means to Me: I was doing some remodel work on my house and I enjoyed seeing the outcome of the work that I put in. Dr. David Mukai mentioned the Construction Management Program to me and it sparked my interest. I looked into the program and saw an opportunity, in the long run, to better myself and my family. This is a program that has a career after the completion of the degree. This program has meant a lot to me because of the relationships I have built with the other students and instructors. Dr. Jacobs and the other instructors have a passion for the CM field which cultivates a fun learning environment with practical skills that we can use in the field. The way the program makes you interact with each other builds important leadership skills that will help us excel in the Construction Management field.

What I'm Excited For and Looking Forward to with CM: I am excited to see Construction Management Program grow and for my fellow students to make significant impacts across the country. I look forward to graduating with my second bachelor's degree and using it to start a new career someday.
---
Program Achievers
A unique component of the Department of Civil and Architectural Engineering and Constrction Management is the minor and certificate programs offered.
Discover how our Construction Management (CM) students have successfully completed their programs.
 

WYATT YENNEY | Taking Up Opportunities

Wyatt Yenney, one of 30 students to participate in the University of Wyoming's first Construction Management program, is a Wyoming son, born and bred. He was born in Sheridan, WY, and later moved to Rock Springs, where he completed high school in 2018.

Highly motivated to stay in Wyoming, but unsure how to do that, because of the lack of training in the field he thought he would like to have.

Fortunately, during High School, he participated in Rock Springs High School's Energy Resource Academy that offers real-life, hands-on training in a variety of fields. This is where he began his journey towards his construction interests, being fully encouraged by the Academy instructors to take up job shadowing opportunities.

His first internship was the result of a job shadowing opportunity at the Jim Bridger Power Plant owned by PacifiCorp. It was there that he met Charlie Barnum, who provided the mentoring he needed to keep going.

After graduating high school, he attended Western Wyoming College for his freshman year. As a result of his ongoing interest in construction management, he was able to spend his summer working in the field while earning money for school.

Keep reading about Wyatt's journey here!
---
The Civil, Architectural Engineering and Construction Management Industry Advisory Board (IAB)
The Civil, Architectural Engineering and Construction Management Industry Advisory Board (IAB), consists of 15 elective members who serve a two-year term. Click here to view current IAB members.
---
Industry Supporters
Your organization can motivate a future workforce by engaging with them in order to encourage career opportunities within your sector. We focus on highlighting opportunities for individuals by building visible links between education and its application in industry and related careers. 
Contact us on how our expertise can help you connect with your future workforce today!
The Associated General Contractors of Wyoming provides benefits and services to its members through political involvement, training, safety programs, and career opportunities which offer advancement for member employees, promotes the construction industry and ensures a competitive opportunity that benefits all citizens of Wyoming.

The Wyoming Construction Coalition is the voice of Wyoming 's construction profession. We advocate, educate and communicate for a successful construction industry.

 

The Southeast Wyoming Builders Association (SEWBA) is a professional trade association in partnership with the Wyoming Home Builders Association (WHBA) and the National Association of Home Builders (NAHB). Membership in the Association promotes professionalism within the industry, provides educational and safety instruction, and fosters creativity and community leadership. 
---
SOAR
SOAR is a competency based program at UW made up of experiences that will shape, engage and prepare students to meet unpredictable and complex challenges for the future. As a participant, you will participate in high impact learning experiences in research, cross-cultural and international perspectives, internships, entrepreneurship, leadership and community service.
Construction Management (CM) students can watch this video on the mandatory SOAR requirements.

Construction Managament (CM) students can watch this video on how to use their SOAR platform.
---