ITC Data Center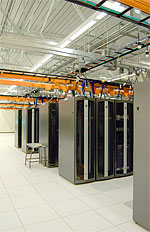 The Division of Information Technology opened its new, state-of-the-art, 6,000 sq. ft. Data Center over winter break, 2008. Located in the new ITC building, 1710 Sorority Drive, the Data Center currently hosts several hundred production computing systems that provide critical information technology services required to operate the University.
The Data Center includes highly redundant infrastructure for power, cooling and security, and plenty of room to grow as the university's IT requirements increase. The Data Center is operated by the IT Division, Business Services Department.
---
Contacting Data Center Operations
The Data Center primary contact phone number is 766-2747. Use this number during business hours for all business; or after hours for urgent issues only (leave a message to have the on-call Data Center staff member contact you). Email the data center at data.center.ops@uwyo.edu.
---
Co-Location Hosting Services
In January, 2009, Data Center Operations began accepting applications for co-location hosting services from University Departments with production IT equipment suitable for the Data Center. Interested in co-location services? See our co-location information page for general information, and our co-location technical details page for more detailed information on cabinets, electrical and cooling. Questions? Contact us at data.center.ops@uwyo.edu, or call the Data Center Manager, Jerome Lindsey, at 6-4742.