UW Alums and Peace Corps Volunteers
You might be surprised to learn that UW has a rich history partnering with the Peace Corps: since 1961 there have been 422 undergraduate and graduate UW alumni who have volunteered with the Peace Corps and currently (as of September 30, 2019) there are 16 UW volunteers following a 5 year trend of between 9-16 volunteers. UW students have also served in the following countries:
Benin
Cambodia
China
Columbia
Ecuador
Guatemala
Kosovo
Madagascar
Morocco
Namibia
Nepal
Sierra Leone
Tonga
Zambia
If you are a previous UW alum and Peace Corps volunteer and you would like to have your story featured here to inspire current UW students, you can use the below form to reach out the UW's Peace Corps Prep Coordinator, Becky Despain, to have your story highlighted here!
Peace Corps Volunteer Spotlight
Katye Lester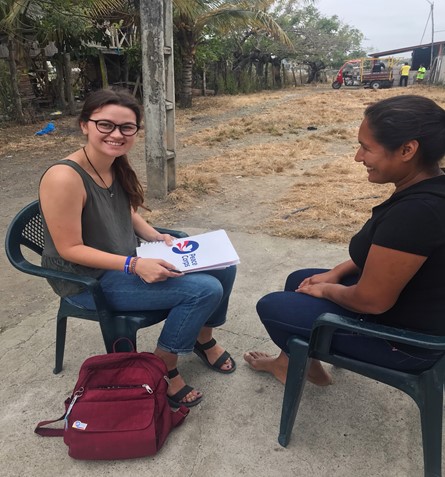 I served as a youth development volunteer in Ecuador from May 2019 until the pandemic suspended all volunteer operations. I lived in a small, rural-coastal town called Palestina. The population of my town was only 15,000 people and it was a very tight-knit community. In the youth development sector, our main goals for the Ecuadorian context were sex education in order to help prevent the large population of teenage pregnancies, English education, and healthy lifestyles and values education. Some of the projects I worked on were creating an English club at my site, an older women's club where we did crafting, Zumba classes, and planned events for the town. My counterpart organization was Plan International where we would put on "talleres" or workshops, for children and their families. With the children, we focused on education about disaster preparation and prevention, environmental education, and healthy lifestyles.
My biggest success in Peace Corps was definitely the relationships I made. I became very close with my host family, and now a year later I still talk to them every week. I also made strong relationships in my community, which helped me do a lot of projects. Unfortunately, I was just getting into the groove of service when we were evacuated. Before joining the Peace Corps, I was heavily involved at Indiana University in Peace Corps events. With the Peace Corps Prep Certificate, I was able to do a community project in Bloomington with low-income families. Overall, the certificate helped prepare me to do similar projects in Ecuador. Also, as a campus ambassador, I was able to work with a Peace Corps recruiter to market Peace Corps, and also tailor my resume in a competitive way. All of these experiences made me very competitive and prepared when applying to join Peace Corps.
Unfortunately, my Peace Corps journey was cut short, but I was able to pursue the Coverdell Fellowship here at University of Wyoming. Peace Corps has allowed me to network and make many connections that have led me to new opportunities. Although I wasn't't expecting to be in Laramie, I am glad that Peace Corps led me here. Now I am pursuing my Master's in Public Administration with a focus on nonprofit management. My Peace Corps experience heavily influenced my career decisions, and in the future I hope to start my own nonprofit serving Latin@ and Hispanic communities. I will forever be grateful to my service and everything I learned from it. You can see more of Katye's time in Ecuador in these pictures.