Contact Us
Institutional Communications
Bureau of Mines Building, Room 137
Laramie
Laramie, WY 82071
Phone: (307) 766-2929
Email: cbaldwin@uwyo.edu
Powell Student Recognized with UW Neuroscience Minor Award
June 11, 2020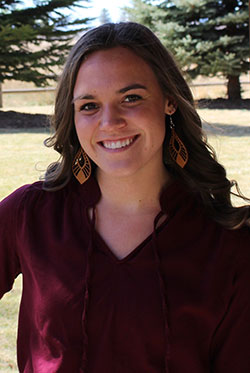 Tristan Bohlman
Tristan Bohlman, from Powell, was recently recognized as the best spring semester undergraduate neuroscience minor student from the University of Wyoming's Neuroscience Program.
Each semester, a faculty committee chooses a graduating undergraduate student, who fulfills the requirements as a neuroscience minor, to receive the award. Recipients must exhibit excellence in their study of neuroscience. Bohlman received $100.
Bohlman graduated with a bachelor's degree in physiology and minors in psychology, honors and neuroscience. She plans to apply to medical school this summer, while working as a doctor's technician at an optometry office.
"I'm especially grateful for my education at UW, and the opportunities it will provide me as I pursue my dream of becoming a physician and caring for people," she says.
The minor in neuroscience curriculum exposes students to the field through a variety of courses that include information about the structure of the brain, how it functions and the basics of sensation, learning, movement, emotion, sleep/wakefulness and species-typical behavior.
For more information, call the UW Office of Graduate Education at (307) 766-2846 or email Graded@uwyo.edu.
Contact Us
Institutional Communications
Bureau of Mines Building, Room 137
Laramie
Laramie, WY 82071
Phone: (307) 766-2929
Email: cbaldwin@uwyo.edu