Contact Us
Institutional Communications
Bureau of Mines Building, Room 137
Laramie
Laramie, WY 82071
Phone: (307) 766-2929
Email: cbaldwin@uwyo.edu
UW Libraries to Host Lift Every Voice Poetry Programs in October
September 21, 2020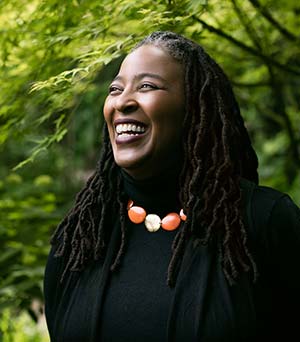 Camille Dungy
University of Wyoming Libraries is partnering with the Albany County Public Library (ACPL) to offer a series of events to celebrate African American poetry in October.
Lift Every Voice: Why African American Poetry Matters is a national program dedicated to enhancing appreciation of the extraordinary range and richness of the 250-year-long African American poetic tradition.
UW Libraries received two grants to celebrate African American poetry and culture: one from the Library of America's Lift Every Voice project and a second from the Wyoming Humanities Council.
UW Libraries-sponsored events will all be virtual, free and available to residents throughout Wyoming and the region. To view information about the Lift Every Voice programs, including speaker biographies and links to the programs, go to www.uwyo.edu/libraries.
Lift Every Voice programs will begin Monday, Oct. 5, and will culminate Tuesday, Oct. 27, with a reading by Camille Dungy, an award-winning African American poet. Dungy is noted for her poetry that explores nature, love and African American survival. She is the author of four collections of poetry and a collection of personal essays. Her honors include the 2010 Crab Orchard Open Book Prize, the American Book Award in 2010, a Colorado Book Award and a California Book Award silver medal. Dungy is a professor in the Department of English at Colorado State University. 
"UW Libraries is excited to host Lift Every Voice programs and make them accessible statewide," says Cass Kvenild, UW Libraries associate dean. "We hope these programs will build on the national dialogue about racial justice with local community conversations enriched by the power and history of African American poetry."
Lift Every Voice programs are:
-- Monday, Oct. 5, 2 p.m.: Timothy Askew, a professor of English and humanities at Clark Atlanta University, will discuss the song "Lift Every Voice and Sing" by James Weldon Johnson and John Rosamond Johnson. Askew will explore how the song offers a window in understanding the political and social consciousness of African Americans in the 20th and early 21st centuries.
-- Friday, Oct. 9, 7 p.m.: The UW Black Studies Center will present "Find Your Voice," a youth poetry slam. Sign-ups are limited to middle school, high school and college students. There will be prizes available for first, second and third places.
-- Sunday, Oct. 11-Saturday, Oct. 17: ACPL will offer Lift Every Voice children and young adult programs to promote the importance of African American poetry. More information can be found at http://events.acplwy.org/.
-- Thursday, Oct. 15, 2 p.m.: Fredrick Douglass Dixon, director of the UW Black Studies Center and an assistant professor in African American and Diaspora Studies, will host Café of Poetry Readings, a family-friendly event. There will be readings of African American poetry and musical performances by the Laramie High School Jazz Choir.
-- Tuesday, Oct. 20, 4:30 p.m.: Caskey Russell, director of the UW Native American and Indigenous Studies Program; graduate student Nicole Foss, president of the Dead Poets Society student group at UW; and Dixon will be panelists on the "Poetry Sucks" panel. This lighthearted panel will give an educational response to those who dislike or struggle with poetry. Scott Henkel, director of the Wyoming Institute for Humanities Research (WIHR), will moderate the discussion.
-- Tuesday, Oct. 27, 6:30 p.m.: Camille Dungy will share her work in a reading.
Sponsors and partners for the events are the Lift Every Voice project, Wyoming Humanities Council, ACPL, UW Black Studies Center, WIHR and the Laramie High School Jazz Choir.
For more information, call Cynthia Hughes at (307) 766-5611 or email chughes5@uwyo.edu.
Contact Us
Institutional Communications
Bureau of Mines Building, Room 137
Laramie
Laramie, WY 82071
Phone: (307) 766-2929
Email: cbaldwin@uwyo.edu