Contact Us
Institutional Communications
Bureau of Mines Building, Room 137
Laramie
Laramie, WY 82071
Phone: (307) 766-2929
Email: cbaldwin@uwyo.edu
UW Alum Ken Boilsen Engineers Aircraft and UW's Future
October 28, 2020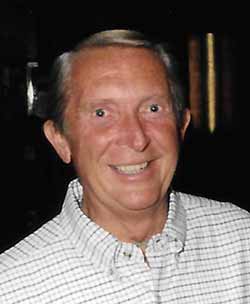 Ken Boilsen
"Every time you see Air Force One, you will be looking at a part of Ken's life," wrote the author of a tribute to Ken Boilsen, engineer and philanthropist.
That's because Boilsen, a Laramie native and University of Wyoming engineering alumnus, devoted his life to developing Boeing's 747, including its military applications and its transformation into Air Force One, the aircraft that carries the president of the United States.
"Ken's groundbreaking work with Boeing was not only vital to our country, but also brought great credit upon UW," says Cameron Wright, interim dean of UW's College of Engineering and Applied Science. "His significant contributions will live on."
Boilsen, who died Feb. 12 at the age of 77, named UW in his will and also as beneficiary of his retirement plan. His substantial estate gift will benefit the H.T. Person Endowment Fund, which supports UW's most student-focused engineering faculty, "leaders in engineering," for informative lectures and workshops. It is a fitting tribute -- UW's H.T. Person was beloved by students, including Boilsen, and peers alike. Person served as an engineer, professor, dean and university president.
After graduating from UW with a bachelor's degree in civil engineering in 1966, Boilsen took a job with Boeing Co. in Seattle. He worked in commercial airplane product development, exploring military applications of the 747, including its size, range and speed capabilities.
Through this work, he held a patent for the missile carrier airplane system design, "a floor mounted track system for moving missile racks into a launch position adjacent to a side opening in the fuselage and ejecting missiles," according to patent documents. His work then transitioned to overseeing, as program manager, the development of a 747 version of Air Force One.
Growing up and throughout his life, Boilsen loved the outdoors. He returned to Laramie as often as he could to hunt and fish, and he was an active member of Ducks Unlimited. He also played softball and bowled for the Boeing company team, "always striving to maximize the fun with tempered competitive engagement," his obituary stated.
His dad, Elwood, had been foreman of the UW Experimental Farm for 39 years, conducting research on new agricultural methods and coordinating with faculty and research staff. Boilsen's brother David, who also attended UW, worked for the Wyoming Department of Transportation.
While at Laramie High School, Boilsen pursued his love of photography. In high school and college, he played guitar with the Imperials, a dance band, which helped him cover his college expenses. At UW, he was an active member of Kappa Sigma fraternity.
A retirement plan can be a tax-efficient and simple way to include UW in an estate plan. The best method is to name UW as a beneficiary on the plan's beneficiary designation form.
A retirement plan with an individual as a beneficiary is subject to income taxes and possibly estate taxes, while a charity that is named as the beneficiary does not pay income or estate taxes on the distribution. Thus, the full value of the distribution supports UW students and designated faculty and programs.
Yearly required minimum distributions from IRAs also can be given to UW to minimize donors' taxable income during their lifetimes.
Those interested in learning more about making a planned gift should contact Teddi Freedman, College of Engineering and Applied Science director of development, at teddi.freedman@uwyo.edu or (307) 766-3967.
Contact Us
Institutional Communications
Bureau of Mines Building, Room 137
Laramie
Laramie, WY 82071
Phone: (307) 766-2929
Email: cbaldwin@uwyo.edu