Contact Us
Institutional Communications
Bureau of Mines Building, Room 137
Laramie
Laramie, WY 82071
Phone: (307) 766-2929
Email: cbaldwin@uwyo.edu
UW Associate Professor Earns Two Awards for Co-Edited Book
January 19, 2021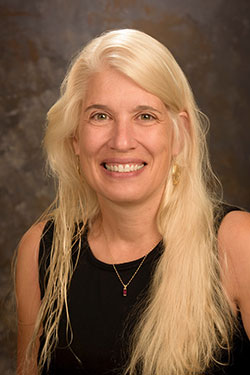 Ana Houseal
Ana Houseal, an associate professor in the University of Wyoming School of Teacher Education, has won two awards for her work on the book "America's Largest Classroom: What We Learn from Our National Parks."
The 2020 Nonfiction Authors Association (NFAA) Silver Award was awarded in July, and the Western National Parks Association Stewart L. Udall Award was announced and awarded in November.
"This book project allowed me to merge my passions at the intersection of nonformal education and instructional objectives that enhance deep thinking and facilitate learning for all," Houseal says. "The awards have validated our efforts to compile and make available the excellent work of educators, researchers and scholars about some of the hidden educational resources within the National Park Service units, including parks, monuments, and cultural and historical sites."
The NFAA Silver Award serves as a seal of approval, ensuring readers that the quality of the writing and production of the book measure up to the association's high scoring standards. The Stewart L. Udall Award honors those who work to support park interpretation programs, deliver the park message to all audiences, or rally broad support for national parks. Udall awardees can include authors, poets, artists, photographers, writers, publishers and others who are inspirational conservationists.
Published on Earth Day 2020, the book seeks to improve the educational offerings available at U.S. national parks while providing guidance for teachers at all levels to meaningfully incorporate information about the parks, monuments and historic sites into their instruction. The book is meant to be accessible to the public as well as be used in university courses related to environmental education and stewardship; by leaders making decisions about public lands; and by professionals in the fields of conservation and interpretation of public lands.
Throughout its 21 chapters, the manuscript compiles histories, essays, research and case studies written by 40 top scholars from across the country. Instructional ideas presented in the book help people think about ways to expand their knowledge about science, technology, engineering, mathematics, social studies, history and culture through experiences in their visits to national parks and public lands.
Houseal worked with co-editor Jessica Thompson, a professor in the College of Business at Northern Michigan University, to compile the book. Additionally, Houseal wrote or co-wrote a couple of the book's chapters.
"America's Largest Classroom: What We Learn from Our National Parks" can be purchased from the University of California Press and through Amazon. Additionally, a special edition of Parks Stewardship Forum, a free online resource, includes a reprint of two chapters that originally appear in the book and several other articles that expand on the book's themes. The book also is available at Second Story Books and the University Store in Laramie.
Contact Us
Institutional Communications
Bureau of Mines Building, Room 137
Laramie
Laramie, WY 82071
Phone: (307) 766-2929
Email: cbaldwin@uwyo.edu