Contact Us
Institutional Communications
Bureau of Mines Building, Room 137
Laramie
Laramie, WY 82071
Phone: (307) 766-2929
Email: cbaldwin@uwyo.edu
UW's Borowczak to Present in Cybersecurity Seminar Thursday
January 6, 2021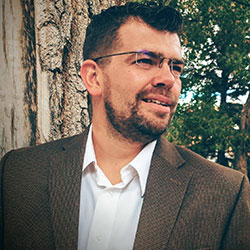 Mike Borowczak
The founding director of the University of Wyoming's Cybersecurity Education and Research Center is the presenter during a virtual "Codebreaker" seminar at 3:30 p.m. Thursday, Jan. 7.
Mike Borowczak, an assistant professor in UW's Department of Computer Science, will present "Systems Have Leaky Side Channels, and Attackers Know It -- What Can You Do?" It's part of a monthly seminar series on cybersecurity hosted by the Idaho National Laboratory-affiliated Center for Advanced Energy Studies (CAES).
"Hardware and software systems permeate society today, from the technology we use to communicate and socialize to the devices that ensure electricity reaches our homes. The security of these devices has long been seen as a property of their design," Borowczak says. "But what if these devices are vulnerable simply because they exist? As humans, we often make inferences by utilizing information indirectly related to an item in question. We use facial expressions to gauge someone's mood, for example."
His presentation will explore the use of side channels of information as a way for attackers to make assumptions about a system, extract information and interfere with its operation.
Borowczak holds a Ph.D. in computer science and engineering from the University of Cincinnati. Before joining the UW faculty, he worked in the semiconductor industry and at several startup companies as a hardware security architect and data scientist. He is a CAES fellow.
The presentation will be streamed live via the BlueJeans app: https://bluejeans.com/553519351?src=join_info.
Contact Us
Institutional Communications
Bureau of Mines Building, Room 137
Laramie
Laramie, WY 82071
Phone: (307) 766-2929
Email: cbaldwin@uwyo.edu