Contact Us
Institutional Communications
Bureau of Mines Building, Room 137
Laramie
Laramie, WY 82071
Phone: (307) 766-2929
Email: cbaldwin@uwyo.edu
Daryl Schultz Selected as UW Employee of Fourth Quarter
February 1, 2021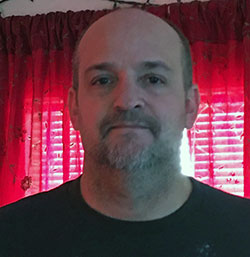 Daryl Schultz
A longtime University of Wyoming employee who has trained dozens of staff members on proper disinfection protocols and cleaning practices -- especially during the COVID-19 pandemic -- is the recipient of UW's Staff Employee of the Fourth Quarter Award.
Daryl Schultz is the custodial trainer in Custodial Services, a unit of UW Operations, where he has worked for 16 years. He has been in his current position for three years. Schultz trains custodians on the processes, procedures and equipment related to the unit. He also repairs equipment, including carpet extractors, vacuums and high-speed floor burnishers. Additionally, he develops and implements quality control programs, such as an inspection program for custodians.
As part of UW's response to COVID-19, Custodial Services provides enhanced cleaning services across campus. Schultz has been instrumental in educating staff members on the appropriate cleaning products to use in campus facilities, his nominators note.
"He is always expanding his education on products used for cleaning purposes, their effectiveness and safety," a nominator says. "I think he is incredibly important to campus in ensuring that appropriate supplies are brought to campus for cleaning."
Another nominator agrees. 
"He provides the most accurate information and goes into great detail when making recommendations," a colleague says. "He wants the best outcome for us when it comes to effectiveness as well as safety for students, faculty and staff."
Schultz says his biggest challenge during the pandemic has been training employees on proper cleaning methods while still repairing equipment in a timely fashion. His job entails picking up broken equipment from buildings, diagnosing problems and ordering parts, if needed. He makes any necessary repairs and then returns the equipment to the appropriate buildings.
"He works tirelessly to keep our department equipment in good working condition by researching and tracking down the most available and cost-effective replacement parts," a colleague says.
The colleague praises Schultz for helping to make the UW campus a safe and clean environment.  
"He has an enormous impact on our department, division and the university as a whole by properly training all of our department employees who, in turn, affect daily the safety and cleanliness of all UW academic and administrative facilities," the colleague says.
Schultz says he is honored to be selected for the award.
"It's nice that people appreciate and notice the job that I and the other custodians do," he says.
An Employee of the Quarter nominee can be any UW staff employee, and each must receive three nomination forms from three separate individuals. Nominations must be submitted to the Staff Senate office. The forms are on the web and can be found here.
For more information, call the Staff Senate office at 766-5300.
Contact Us
Institutional Communications
Bureau of Mines Building, Room 137
Laramie
Laramie, WY 82071
Phone: (307) 766-2929
Email: cbaldwin@uwyo.edu