Contact Us
Institutional Communications
Bureau of Mines Building, Room 137
Laramie
Laramie, WY 82071
Phone: (307) 766-2929
Email: cbaldwin@uwyo.edu
UW Opens New Campus Space for Students
March 17, 2021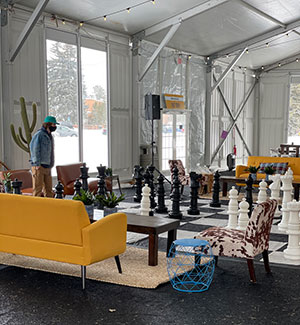 The Lodge is a new gathering place for students on UW's Fraternity Mall. (UW Photo)
University of Wyoming students now have a new comfortable, relaxing place where they can gather.
The Lodge is a spacious, heated tent on UW's Fraternity Mall with cozy seating options, games and activities, and other amenities. Students can use it in many ways, from studying to small gatherings to game nights. Also, coffee and pastries are available for purchase.
The Lodge is open during the following hours:
-- Monday-Friday, 11 a.m.-9 p.m.
-- Saturday and Sunday, 11 a.m.-5 p.m.
Students should enter The Lodge through its north entrance. A green COVID pass is required to enter, and all other COVID-19 guidelines apply.
Contact Us
Institutional Communications
Bureau of Mines Building, Room 137
Laramie
Laramie, WY 82071
Phone: (307) 766-2929
Email: cbaldwin@uwyo.edu