Contact Us
Institutional Communications
Bureau of Mines Building, Room 137
Laramie
Laramie, WY 82071
Phone: (307) 766-2929
Email: cbaldwin@uwyo.edu
Allen to Give Buchanan Lecture at UW April 23
April 13, 2021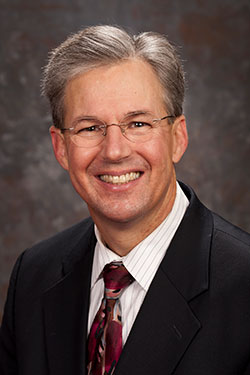 Myron Allen
Longtime University of Wyoming mathematics professor and administrator Myron Allen will give the 2021 Buchanan Lecture Friday, April 23.
Allen, now professor emeritus of mathematics, will discuss "What the University of Wyoming Can Be" at 3 p.m. Following COVID-19 protocols, seating is limited in the Marian H. Rochelle Gateway Center, but Allen's lecture is accessible via Wyocast at https://wyocast.uwyo.edu/WyoCast/Play/287c07c54a30414194e95ba3621261dd1d.
The lecture was established to honor Tom Buchanan, who retired in June 2013 after serving as UW's 23rd president since 2005. The lecture is delivered annually by one of UW's most accomplished retiring faculty members.
The lecture offers members of the university community the opportunity to hear distinguished UW faculty members distill a life of inquiry, reflection and service into important guidance for successive generations.
Allen's talk will focus on three of the many lessons about higher education he learned during his UW career. One of those talking points will be what the university can be for its state and suggests a path to excellence that will enable UW to fulfill this vision, he says.
Allen joined the UW faculty in 1983 after completing a Ph.D. at Princeton University. In 1992, he became a full professor and department head almost simultaneously. In 1999, he became an associate vice president for academic affairs, working for then-Vice President Buchanan. From 2005-2013, Allen served as provost and vice president for academic affairs, working for then-President Buchanan. In 2013, Allen returned to the mathematics faculty, where he taught undergraduate and graduate courses until retiring in 2020.
His scientific interests focus on the computational mechanics of flows in porous media and related mathematical problems. During his career, he supervised seven doctoral graduates and 13 master's degree graduates. He has published five monographs, with an additional book currently in press, and more than 60 scientific articles. He received the university's George Duke Humphrey Distinguished Faculty Award in 1999 and the John P. Ellbogen Lifetime Teaching Award in 2016.
Among his favorite administrative projects at UW were assisting with the design of the School of Energy Resources; working with UW colleagues and the National Center for Atmospheric Research to establish a world-class supercomputing center in Wyoming; developing and implementing three successive strategic plans; funding several measures to enhance the diversity of the UW faculty; and implementing programs to develop effective academic leaders among the faculty.
In retirement, Allen continues to pursue several writing projects; serves as national program director for mountain travel and rescue for the National Ski Patrol; and is a licensed EMT.
The Office of Academic Affairs sponsors the Buchanan Lecture, selects the speaker and provides a monetary award.
For more information, call the Office of Academic Affairs at (307) 766-4286.
Contact Us
Institutional Communications
Bureau of Mines Building, Room 137
Laramie
Laramie, WY 82071
Phone: (307) 766-2929
Email: cbaldwin@uwyo.edu