Contact Us
Institutional Communications
Bureau of Mines Building, Room 137
Laramie
Laramie, WY 82071
Phone: (307) 766-2929
Email: cbaldwin@uwyo.edu
UW's Malcolm Wallop Civic Engagement Program Launches Virtual Health Library
April 30, 2021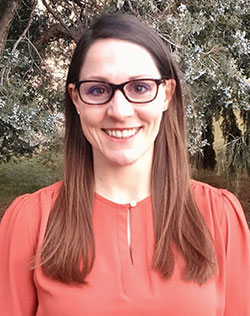 Alyssa McElwain
Lessons to help youths ages 14-18 build and maintain healthy romantic relationships are among a virtual curriculum for Wyoming teachers developed through the University of Wyoming's Malcolm Wallop Civic Engagement Program.
Alyssa McElwain, an assistant professor in the UW Department of Family and Consumer Sciences, created the 10 lessons about healthy relationships, says Jean Garrison, co-director of the Wallop Civic Engagement Program K-12 Curriculum Project. McElwain is a faculty member in the UW College of Agriculture and Natural Resources.
The lessons are part of the virtual health content library launched April 26 by the project.
"As the recipient of the 2020-21 Wallop Faculty Engagement Fellowship, Alyssa put together this important set of lessons about healthy relationships that is available for school counselors and after-school programs, as well as accessible to students directly, across the whole state," Garrison says.
Lessons -- including discussions of personal identity, healthy relationship principles, communication skills, decision-making, warning signs of abuse and breaking up -- provide teens with key knowledge and skills for their current and future relationships, Garrison says.
The virtual health content library caters to topics linked to Wyoming's health education content and performance standards. The virtual catalog resources include short video presentations and accompanying teacher resource guides and handouts, as well as offering teachers the option to schedule an "Ask Me Anything" session with the expert presenters to explore topics further, Garrison adds.
The series of brief modules is hosted on UW's WyoLearn platform. Each module takes 15-40 minutes.
Barb Rasco, dean of the UW College of Agriculture and Natural Resources, says the skills McElwain is providing through the program will help young people immensely as they enter adulthood.
"I am excited that Alyssa is going to be able to reach a greater number of high school youth with strategies on managing relationships," Rasco says.
McElwain is a certified family life educator, who focuses on relationship education in adolescent and adult populations. She also is director of the Relationship Education and Leadership project, which provides peer-taught relationship education on campus through the "Relationship Smarts" classes.
"Developing skills for healthy relationships is so critical for youths, especially as they navigate new types of relationships and changes to others," says Christine Wade, head of the UW Department of Family and Consumer Sciences. "Alyssa's expertise in creating and delivering programming to support that development can now benefit our communities."
More content will be added in the coming months. To access the content, go to www.uwyo.edu/wyolearn and click on "Malcolm Wallop Civic Engagement Project"; or go to https://civic.catalog.instructure.com and click on the "Wallop K-12 Curriculum Project-Health Education" course. A WyoLearn step-by-step guide is available at www.uwyo.edu/wyolearn/guides/students/course-enrollment.html.
The Wallop Civic Engagement Program K-12 Curriculum Project represents a collaboration among UW's College of Arts and Sciences; the School of Politics, Public Affairs and International Studies; the College of Education's Trustees Education Initiative; and the Office of Engagement and Outreach. Support also is from The Tucker Foundation; Rocky Mountain Power Foundation; the Arts and Sciences/American Heritage Center Wallop Conversations on Democracy Fund; and donor support. 
Contact Us
Institutional Communications
Bureau of Mines Building, Room 137
Laramie
Laramie, WY 82071
Phone: (307) 766-2929
Email: cbaldwin@uwyo.edu