Contact Us
Institutional Communications
Bureau of Mines Building, Room 137
Laramie
Laramie, WY 82071
Phone: (307) 766-2929
Email: cbaldwin@uwyo.edu
Author and Former UW Faculty Member Ann McCutchan to Speak on Campus Oct. 6
September 23, 2021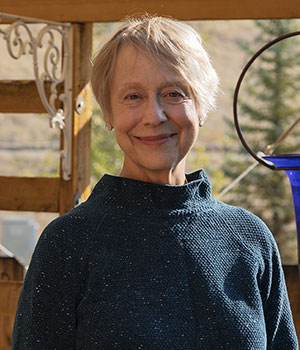 Ann McCutchan (Photo courtesy Susan Moldenhauer)
Ann McCutchan, an author, lyricist, librettist and former professor at the University of Wyoming, will speak Wednesday, Oct. 6, at UW.
Her talk, which is free and open to the public, will be at 4 p.m. in Room 506 of Coe Library. The event also will be livestreamed on Zoom. To attend the event via Zoom, register at www.uwyo.edu/libraries. The University Store will have copies of her newest book available for purchase before and after the talk.
McCutchan is the author of six books of memoir, essay and biography. Her latest book is "The Life She Wished to Live: A Biography of Marjorie Kinnan Rawlings, Author of 'The Yearling.'" Rawlings, a leading 20th century writer, received a Pulitzer Prize in 1939 for "The Yearling." The novel was made into a movie in 1946.
Colette Bancroft, with the Tampa Bay Times, describes McCutchan's portrayal of Rawlings' life as "an engaging, lively biography of an accomplished and complicated woman."
"McCutchan is a sensitive observer of Rawlings' work and of her deeply unconventional life," says Dwight Garner, of The New York Times.
McCutchan taught in UW's music and English departments from 2001-05, and she was the founding director of UW's MFA in Creative Writing Program. From 2005-2014, she taught creative writing at the University of North Texas, and she also served as editor-in-chief of the university's American Literary Review. Additionally, she has written eight commissioned musical texts, from songs to operas. She has received fellowships and residencies from the Rockefeller Foundation, Cornell University, the MacDowell Colony and others. 
McCutchan recently moved back to Laramie, where she shares a home with her partner, Ken Gerow, a UW statistics professor, and their Australian shepherd, Cora.
For more information about McCutchan and her works, visit her website at www.annmccutchan.com.    
For more information about McCutchan's talk, call Rochelle Hayes at (307) 766-3641 or email mhayes6@uwyo.edu.
Contact Us
Institutional Communications
Bureau of Mines Building, Room 137
Laramie
Laramie, WY 82071
Phone: (307) 766-2929
Email: cbaldwin@uwyo.edu