Contact Us
Institutional Communications
Bureau of Mines Building, Room 137
Laramie
Laramie, WY 82071
Phone: (307) 766-2929
Email: cbaldwin@uwyo.edu
UW's Bobadilla Receives Young Investigator Grant to Research Drug Addiction
September 2, 2021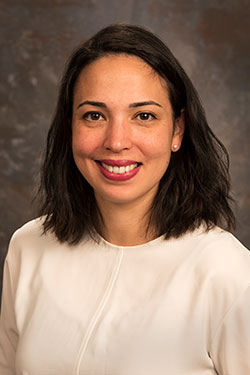 Ana Clara Bobadilla
Ana Clara Bobadilla says the opioid epidemic in the United States is associated with an equally dangerous public health threat -- the combined use of multiple drugs. For example, from 2010-16, fentanyl, a powerful synthetic opioid, accounted for most of the increase in cocaine-related overdose deaths.
"Although polysubstance use has been consistently observed in the clinic, preclinical research has, until recently, focused solely on the neurobiological effects of single drugs," says the University of Wyoming assistant professor in the School of Pharmacy and the WWAMI (Washington, Wyoming, Alaska, Montana and Idaho) Medical Education Program. "To address this gap in knowledge, we propose to investigate how polysubstance exposure impacts coactive cellular networks in the brain."
To fund her research, Bobadilla recently received a Young Investigator Grant from the Brain & Behavior Research Foundation (BBRF) for her project, titled "Assessing Neuronal Ensembles Competition in a Model of Polysubstance Exposure and Relapse." Her grant starts Jan. 15, 2022, and runs through Jan. 14, 2024.
BBRF is committed to alleviating the suffering caused by mental illness by awarding grants that will lead to advances and breakthroughs in scientific research. The BBRF Young Investigator Grant program provides each scientist with up to $35,000 per year for two years -- totaling $70,000 -- to enable promising investigators to either extend research fellowship training or begin careers as independent research faculty. 
The goal of the Young Investigator Grant program is to help researchers launch careers in neuroscience and psychiatry and gather pilot data to apply for larger federal and university grants. Since 1987, BBRF has awarded more than $269 million in Young Investigator Grants around the world. 
"A fundamental feature of drug addiction is a lifelong vulnerability to relapse, even after long periods of abstinence," Bobadilla says. "The proposed experiments will better characterize the specific networks of neurons that are built through drug use and sustain drug craving by combining state-of-the-art, genetically modified mice and an innovative behavioral model of dual cocaine and heroin intake and relapse. This research will further our understanding of the neurobiology of drug seeking as an approach to treat people struggling with substance use disorder and polydrug use." 
The grant provides funding for three UW students -- Levi Flom, a first-year Ph.D. student in the Neuroscience Program, from Kasson, Minn.; Carl Litif, a second-year Ph.D. student in the Molecular and Cellular Life Sciences Program, from McAllen, Texas; and Kathryn Sandum, a first-year Ph.D. student majoring in biomedical science, from New Boston, Mich. 
Bobadilla received her Ph.D. in neuroscience from the Pierre & Marie Curie University (now Sorbonne University) in Paris, France. Her thesis work focused on understanding the long-lasting neurobiological changes of noradrenergic and serotonergic systems induced by repeated exposure to drugs of abuse using the behavioral sensitization model in mice. She then completed her postdoctoral training at the Medical University of South Carolina, where she studied glutamatergic alterations driving drug seeking.
In 2020, Bobadilla joined UW as an assistant professor in the School of Pharmacy. She currently investigates the neurobiological mechanisms of relapse to drugs. Specifically, she characterizes the specific ensembles of neurons built through reward experience that drive reward-seeking behavior. By establishing whether or not addictive drugs hijack the circuitry/ensembles coding for biological rewards, these findings aim to advance fundamental understanding of goal-directed behaviors and the disorders altering them.
For more information about Bobadilla, go to www.uwyo.edu/pharmacy/faculty-and-staff-directory/profile/ana-bobadilla.html.
Contact Us
Institutional Communications
Bureau of Mines Building, Room 137
Laramie
Laramie, WY 82071
Phone: (307) 766-2929
Email: cbaldwin@uwyo.edu