Contact Us
Institutional Communications
Bureau of Mines Building, Room 137
Laramie
Laramie, WY 82071
Phone: (307) 766-2929
Email: cbaldwin@uwyo.edu
Two UW Faculty Researchers Receive Thomas Jefferson Fund Grants
August 15, 2022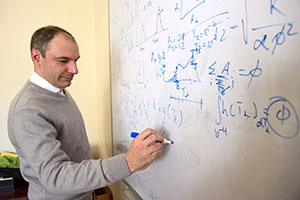 Dario Grana
Two University of Wyoming researchers will receive Thomas Jefferson Fund grants to collaborate with French scientists on separate research projects that assess water storage capacity in mountain watersheds and enhance crop production worldwide to ensure future food security.
Dario Grana, a professor and Wyoming Excellence Chair in the UW Department of Geology and Geophysics, and Carmela Guadagno, an associate research scientist in the UW Department of Botany, will receive Thomas Jefferson Fund grants, each worth $20,000 over two years. The grants start Sept. 1 and run through Aug. 31, 2024.
In 2017, the Embassy of France in the United States and the FACE Foundation launched the Thomas Jefferson Fund to support new collaborations and the most innovative projects among promising young researchers in France and the United States.
Inspired by the third American president's commitment to strengthening French-American relations, the Thomas Jefferson Fund brings young talented researchers together to initiate or strengthen their collaborative research activities, co-organize conferences and write joint articles for high-level publications to achieve game-changing discoveries. The fund aims to foster forward-looking collaborative research in the fields of humanities and social sciences; science, technology, engineering and mathematics; and of science for society that addresses the most pressing global challenges.
Grana's project is titled "Assessment of Water Storage Capacity in Mountain Watersheds Using Data Science and Geophysical Data." He will collaborate with Romain Brossier, an associate professor in the  Department of Geoscience at the University of Grenoble Alpes in Grenoble, France.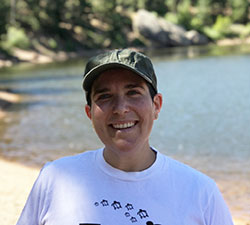 Carmela Guadagno
"Our goal is to improve the understanding of the physical processes in the near subsurface by using data science methods to accurately predict rock properties, their spatial variability and water storage capacity," Grana says. "The results will reduce hydrological model uncertainty and will be beneficial to make informed decisions on water management."
Guadagno's project is titled "Cross-Scale Study of Photosystem II Dry Down." She will collaborate with Tania Tibiletti, a postdoctoral researcher at the Institute of Integrative Biology of the Cell at CEA Paris-Saclay in Paris, France.
Increasing environmental pressures and a burgeoning global population make enhancing crop productivity a pressing need to reach long-term worldwide food security. Plants depend on maintaining an internal water balance that provides the hydration needed for critical physiological processes, such as photosynthesis. However, current productivity models cannot predict future yields because they lack information on biophysical and molecular processes that give rise to the overall plant drought resistance, Guadagno says.
"We propose characterizing the behavior of the photosystem II complex (PSII), an integral part of the photosynthetic apparatus, and its sensitivity to water depletion," Guadagno explains. "We will study PSII with in vitro spectroscopy to whole leaf fluorescence, a reliable proxy for plant vigor. Our cross-scale approach will provide a fundamental mechanistic basis for implemented modeled yield predictions under drought, which is necessary to reach future sustainable productivity and freshwater management."
Contact Us
Institutional Communications
Bureau of Mines Building, Room 137
Laramie
Laramie, WY 82071
Phone: (307) 766-2929
Email: cbaldwin@uwyo.edu