Contact Us
Institutional Communications
Bureau of Mines Building, Room 137
Laramie
Laramie, WY 82071
Phone: (307) 766-2929
Email: cbaldwin@uwyo.edu
UW Offers 'Gladiators and Cinema' Course This Fall
August 9, 2022
This reenactment of a gladiator battle took place at the amphitheater at Carnuntum near Hainburg, Austria. (Wikipedia Photo)
Laura De Lozier probably will stop short of brandishing a sword and wearing sandals in class while bellowing "Are you not entertained?" like Russell Crowe in the 2000 film "Gladiator." But she hopes her fall course "Gladiators and Cinema" will more than excite University of Wyoming students with an interest in what are considered some of the world's first entertainers.
De Lozier, a senior lecturer in the UW Department of Modern and Classical Languages, will cover how competitions between Roman gladiators were blood sports -- sometimes to the death -- that served as acts of religious piety, expressions of political power and places of resistance.
The course examines the development of munera, or gladiatorial combats; the eventual incorporation of these matches into ludi, which are state-sponsored festival games in honor of specific gods; and their cinematic reception, especially in future fictions, to illustrate contemporary concerns about the power media, corporations and governments wield over human lives.
In the first part of the course, students will learn about the history and lives of gladiators using Roman primary sources -- texts in translation and objects from their material culture. The second half of the course will study the postclassical reception of munera and ludi in six films: "Spartacus," "The Gladiators," the 1975 version of "Rollerball," "The Running Man," "Battle Royale" and "The Hunger Games."
"I want students to understand how gladiators embodied core Roman values across the entire empire. I enjoy helping students develop research projects that capitalize on learning in other courses and align with their majors or minors," De Lozier says. "Ultimately, I want students to become more past-minded and develop empathy for these long-dead Romans so that they can thrive in the more diverse, interconnected world of the 21st century." 
The course was created by De Lozier in 2016 and is offered every three years. Prerequisites for the class are six hours of classics courses or consent of the instructor.
"Gladiators fascinate and repulse us. Admiration for their skills squares off with concerns about violence in popular culture. All empires end," De Lozier says. "American cinema fixates on raging felines, defenseless Christians and depraved emperors to implicate munera and ludi in the fall of Rome. Current anxieties about the health of American society and democratic institutions invite comparison with the elements singled out in films about gladiatorial spectacles."
In her first session, De Lozier says she asks her students which films provide them with their knowledge of ancient gladiators. Students most often reference Ridley Scott's "Gladiator" and the STARZ television series "Spartacus," which ran from 2010-13.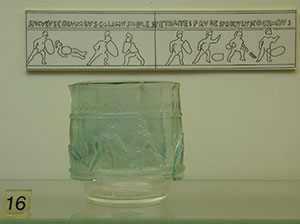 This sea-green glass gladiator cup resides in a museum in Colchester Castle in Colchester, England. The design on the cup depicts famous gladiators from different eras who fought before Julio-Claudian emperors in the capital. (Laura De Lozier Photo)
"That leads to a discussion about how Russell Crowe's gladiator was old compared to the age of real-life gladiators. Crowe was 35 at the time of shooting and fought weird while wearing too many clothes," De Lozier says. "Andy Whitfield was even older at 37 for Season 1 of 'Spartacus.' His replacement, Liam McIntyre, was a more age-appropriate 'veteran' gladiator at 29."
She points out that gladiators in real life died between the ages of 18 and 25, with the median age of death being 22. Gladiators depicted in film and television are typically toned and well muscled. In reality, gladiators had chubby physiques obtained by a vegetarian diet rich in carbohydrates, De Lozier says.
"Like modern sumo wrestlers, gladiators manipulated their mass to gain competitive edges, including protection for their vital muscles and organs," De Lozier explains. "Ancient depictions of gladiators can resemble the Michelin man when arms and legs are wrapped in linen padding based on the armature type. This padding did double duty, minimizing chaffing from arm and leg guards, as well as protecting extremities from misguided blows that could cut short the action by disabling opponents."
Props, costumes and sets in these films often exhibit historical accuracy, while plots routinely take liberties with the historical record. For example, directors typically favor filming unregulated, frenzied combat during scenes of gladiator matches. In reality, there were clear rules for gladiator bouts that were refereed. Gladiators could signal defeat and request a reprieve by raising their left index finger, De Lozier says.
And, for the most part, gladiators did not go into combat expecting to participate in matches to the death. While gladiators were technically slaves, they also represented a huge financial investment in training, special diets and top-notch medical care. As with modern-day athletes, fans knew the names of the gladiators because they were listed in game-day programs. And many of the fans knew the names of the bookies to place their bets. 
"Almost all of these films share an interest in depicting freedom fighters who battle to end slavery or tyranny imposed by the brutal colonialism or totalitarianism of decadent Romans," she says. "Even if these freedom-loving gladiators die and, especially if they do so by crucifixion, their valiant struggles seed the fall of Rome deemed necessary for the triumph of Christianity and the rise of the democratic nation-state."
De Lozier sees correlations between ancient gladiator spectacles and modern-day sports, such as professional football, played in huge stadiums.
"Whenever the price of admission and concessions skews attendance in favor of those with considerable discretionary income, it recalls the exclusivity of Roman munera," she says. "Whenever athletes in contact sports suffer life-altering injuries or die too soon, it calls to mind the high price professional gladiators paid to entertain their gods and contemporaries, and it may make us question why humans have so often accepted that trade-off. Crowds animate sports events, a point reinforced by COVID closures." 
The deadline to sign up for the course is Thursday, Aug. 25. The class will meet from 4:10-7 p.m. Tuesdays on the Laramie campus. Maximum enrollment for the class is 24. Currently, 13 spaces are available.
For more information about the course, email delozier@uwyo.edu.
Contact Us
Institutional Communications
Bureau of Mines Building, Room 137
Laramie
Laramie, WY 82071
Phone: (307) 766-2929
Email: cbaldwin@uwyo.edu