Contact Us
Institutional Communications
Bureau of Mines Building, Room 137
Laramie
Laramie, WY 82071
Phone: (307) 766-2929
Email: cbaldwin@uwyo.edu
UW Prepares to Host Inaugural Saddle Up Program
August 9, 2022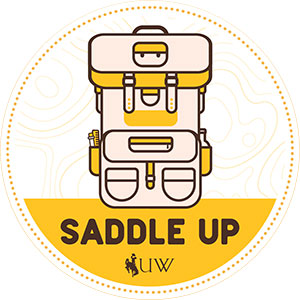 The excitement around the inaugural week of Saddle Up is building as the University of Wyoming prepares to welcome incoming students to campus for a brand-new experience starting Sunday, Aug. 14.
In a continued effort to improve on the student experience and set a clear path to graduation, Saddle Up will act as a weeklong college preparation camp Aug. 14-19. Arriving the week before the start of fall classes, UW's incoming students will learn everything they need to know about succeeding in college -- and, more specifically, how to become successful students at UW.
In its first year, Saddle Up required support from many fronts to achieve a successful kickoff. For example, the UW Foundation Board of Directors played a partnership role in ensuring equal opportunity for incoming students. Saddle Up is a credit-bearing course, and the foundation board has helped to make sure financial restrictions won't exclude students from attending.
"The UW Foundation has been a huge supporter of this program, and we value their contributions," says Nycole Courtney, associate vice president and dean of UW's Student Success and Graduation Hub.
The UW Foundation has a long history of supporting university initiatives, and its initial $100,000 investment provided a large boost toward the success of Saddle Up.
"The UW Foundation Board of Directors and the UW Foundation are excited to support Saddle Up," says Mary Shafer-Malicki, UW Foundation Board chair. "On behalf of the members of the foundation board, we welcome this opportunity to support students -- UW's most important resource."
"I fondly remember my time as a UW student and how excited I was to arrive on campus," says John Stark, president/CEO of the UW Foundation. "Providing some of the funding to launch this new student initiative at UW is the epitome of service to Wyoming's university. This is exactly the reason that the UW Foundation is here -- to support UW."
The UW Student Success and Graduation Hub also has a partnership with UniWyo Credit Union, which will be an asset during Saddle Up. UniWyo has agreed to host multiple events throughout the week, including a barbecue lunch Friday, Aug. 12, along with helping host a parent and family reception.
What Students Can Expect
From move-in day Aug. 14 throughout the next five days of college preparation, incoming students will experience a top-to-bottom breakdown of college life at UW. From academic tips to campus and engagement resources, students should be ready to embark on their journeys to become successful UW graduates.
Incoming students will be split into small groups called Pokes Packs, which will be led by trained Pokes Pack leaders. These Pokes Pack leaders are all current students who are overseen by Cowboy Coaches -- leaders of UW's peer mentoring program. The Pokes Pack leaders will be in charge of groups of students who have the same or similar majors, which will provide many answers to major-specific questions.
Following the week of college preparation, students will have a chance to blow off some steam during the Saturday Adventure Aug. 20. They'll be able to sign up for experiences in and around Laramie to recharge before official classes begin Monday, Aug. 22. More information on what to expect during Saddle Up can be found here.
If students are interested in getting a jump on their Saddle Up schedule, they can download the UW Navigate app. When they arrive on campus, they'll receive their full camp schedule through the UW Navigate app, which also will be a tool for advising throughout their time at UW. Once Saddle Up begins, attendance will be tracked through the Suitable aka SOAR app, which is another resource students should consider downloading before arrival. Both apps can be found here.
How Do I Learn More?
For last-minute questions or concerns, parents, prospective students and incoming students can call the UW Student Success and Graduation Hub at (307) 766-4858 or email saddleup@uwyo.edu.
Most details can be found at www.uwyo.edu/saddle-up.
Contact Us
Institutional Communications
Bureau of Mines Building, Room 137
Laramie
Laramie, WY 82071
Phone: (307) 766-2929
Email: cbaldwin@uwyo.edu