Contact Us
Institutional Communications
Bureau of Mines Building, Room 137
Laramie
Laramie, WY 82071
Phone: (307) 766-2929
Email: cbaldwin@uwyo.edu
UW's Larson First to Earn CPRA Designation
October 21, 2022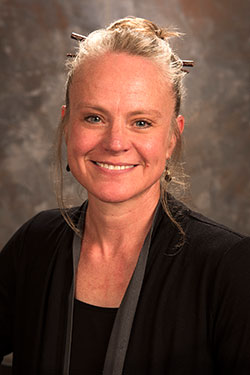 Amanda Larson
An employee in the University of Wyoming's Office of Research and Economic Development recently received the designation of certified pre-award research administrator (CPRA) from the Research Administrators Certification Council (RACC).
Amanda Larson, coordinator of research services, received her credentials in September and is the first at UW to receive this designation. Larson also is a certified research administrator (CRA), a distinction she achieved in 2020.
The earning of the designation of a CPRA signifies that an individual has met RACC eligibility requirements and has demonstrated a level of knowledge to be a professional research administrator in pre-award research. Specifically, the CPRA credential reflects expertise in research partnership and funding; project development; proposal submission; budget design and development; awards; and pre-award compliances.
"The university has been very fortunate over the years to have a growing number of certified research administrators, showing a deep level of commitment and passion to the field of research administration," says Farrell Rapp, director of research services, who possesses a CRA credential. "The individuals who hold a CRA, CPRA or CFRA (certified financial research administrator) credential demonstrate an understanding and knowledge of research administration that reflects their commitment to excellence and service.  
"Amanda is the first CPRA at the University of Wyoming, which is a further reflection of her deep dedication and passion for the field of research administration, specifically in pre-award," Rapp continues. "It's a tremendous accomplishment to earn one of these credentials, but to earn two is remarkable. Amanda is a CRA and CPRA. We are extremely fortunate, as an institution, to have a strong, dedicated and hardworking team of research administration professionals, and Amanda is a shining example of this."
RACC was formed in 1993 as an independent nonprofit association. The council is composed of active CRAs whose role is to certify that an individual, through experience and testing, has met the requirements for CRA designation.
Contact Us
Institutional Communications
Bureau of Mines Building, Room 137
Laramie
Laramie, WY 82071
Phone: (307) 766-2929
Email: cbaldwin@uwyo.edu