Contact Us
Institutional Communications
Bureau of Mines Building, Room 137
Laramie
Laramie, WY 82071
Phone: (307) 766-2929
Email: cbaldwin@uwyo.edu
New UW Extension Publication Analyzes Retail Sales in Wyoming
December 1, 2022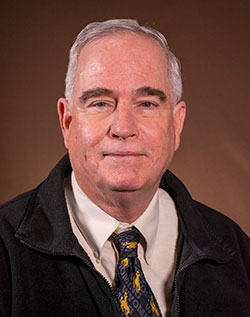 Duane Williams
A new publication from University of Wyoming Extension offers a valuable resource for Wyoming business owners, elected officials, community planners and residents interested in understanding local and regional sales trends.
"Retail sales can be an important part of a community's economy," says author Duane Williams, a UW Extension community development specialist. "Retail activities can attract new dollars to flow into a community or be a source of dollars leaking out of the local economy."
Titled "Assessing 2001-2018 Total Retail Sales and Its Components for the Rocky Mountain Region, Wyoming and Its Counties," the new publication is designed to help communities pinpoint the types of retail sales that have historically driven their economies and identify potential areas for growth.
The report details annual changes in total retail sales in each county as well as sales per capita and the relative percentage of sales associated with different categories of retail establishments, including gas stations, motor vehicle and parts dealers, and food and beverage stores.
Business owners navigating today's economic uncertainty may find it useful to track historical patterns in retail sales and the impact of events such as the 2008 recession or fluctuations in fuel prices.
The study also shows that, in many geographic units, sales tax has become an important revenue source for local governments.
"A more complete understanding of retail sales activities could aid in a community's successful management of this public revenue stream," Williams says.
To download a free copy of the new publication, go here.
Readers are encouraged to explore related publications, including a recent analysis of personal income in Wyoming, at www.wyoextension.org/publications.
Williams also recommends "Clues to Successful Community Development," a free online UW Extension course. To sign up for the course, go to https://extension.catalog.instructure.com/courses/cscd-100.
About University of Wyoming Extension
Since 1914, UW Extension has provided lifelong learning opportunities to Wyoming citizens across the state. With roots in agricultural education, UW Extension supports rural communities facing contemporary challenges and changes. UW Extension brings the university's resources to each of the state's 23 counties and the Wind River Indian Reservation. To learn more about UW Extension, call (307) 766-5124 or visit www.uwyo.edu/uwe.
Contact Us
Institutional Communications
Bureau of Mines Building, Room 137
Laramie
Laramie, WY 82071
Phone: (307) 766-2929
Email: cbaldwin@uwyo.edu