Contact Us
Institutional Communications
Bureau of Mines Building, Room 137
Laramie
Laramie, WY 82071
Phone: (307) 766-2929
Email: cbaldwin@uwyo.edu
New Wyoming History Day Coordinator Hired by UW American Heritage Center
December 14, 2022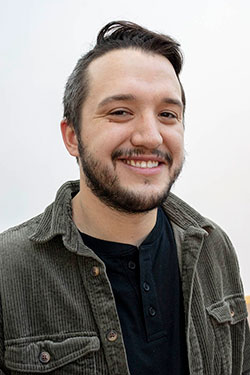 Bryce Mittelstadt
Bryce Mittelstadt was recently hired by the University of Wyoming's American Heritage Center (AHC) as the new Wyoming History Day (WHD) coordinator.
Mittelstadt teaches social studies at Casper Kelly Walsh High School, where he has incorporated WHD into his classroom. Mittelstadt brings a multifaceted view to the program, as he also participated as a student and a volunteer for the program in the past.
He brings many ideas to reinvigorate the program after the challenges of the COVID-19 pandemic.
"The AHC welcomes Mr. Mittelstadt as the new WHD coordinator, and we look forward to the exciting new approaches and energy he brings to the whole WHD program," AHC Director Paul Flesher says.
WHD is more than just an extracurricular activity, Mittelstadt says.
"Students become researchers, historians, artists, filmmakers, web designers and, most of all, storytellers," he says.
He encourages teachers or parents interested in the program to visit the WHD website at www.wyominghistoryday.org or email him at whd@uwyo.edu.
About Wyoming History Day
WHD, an affiliate of National History Day (NHD), is a yearlong educational program that culminates in the national contest in Washington, D.C., each June. WHD, administered by UW's AHC in partnership with the Wyoming State Historical Society, is held each year in late April or early May at UW through generous support from the Ellbogen Center for Teaching and Learning and several donors.
NHD engages students in grades 6-12 in the process of discovery and interpretation of historical topics. Students produce dramatic performances, imaginative exhibitions, multimedia documentaries and informative papers based on research related to an annual theme. Student projects are then presented and evaluated at the local, state and national competitions.
For more information, call UW's AHC at (307) 766-3756 or visit the website at www.uwyo.edu/ahc.
Contact Us
Institutional Communications
Bureau of Mines Building, Room 137
Laramie
Laramie, WY 82071
Phone: (307) 766-2929
Email: cbaldwin@uwyo.edu