Contact Us
Institutional Communications
Bureau of Mines Building, Room 137
Laramie
Laramie, WY 82071
Phone: (307) 766-2929
Email: cbaldwin@uwyo.edu
UW's Jarvis Honored as AAAS Fellow
February 1, 2023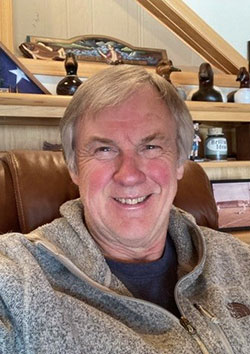 Don Jarvis
Longtime University of Wyoming Department of Molecular Biology faculty member Don Jarvis has been selected as a fellow of the American Association for the Advancement of Science (AAAS), the world's largest general scientific society.
Jarvis received the honor for "distinguished contributions to the field of glycobiology, particularly in genetic engineering of insect cell lines to produce authentic therapeutic glycoproteins and vaccines."
He will receive his certificate and rosette during the AAAS annual meeting in June in Washington, D.C.
"I am pleasantly surprised to receive this honor and join the ranks of other UW faculty who have achieved it, as well," Jarvis says. "It's nice to have our work recognized by such an eminent scientific society."
Jarvis, who joined the UW faculty as an associate professor in 1998 and became a professor in 2000, is internationally renowned for his work on using genetically engineered insect cells for manufacturing vaccines, diagnostics or therapeutics for use in human and veterinary medicine. He has received more than 55 grants from the National Institutes of Health and other entities for his research. He holds 15 patents and has filed an additional 10 patent applications.
In 2011, Jarvis founded a new company, GlycoBac, that is working to produce glycoprotein drugs using insect cells. The company has commercialized his academic laboratory group's research and helped diversify Wyoming's economy as it works to help find treatments for human diseases.
"I've been fortunate to be able to pursue my basic and applied research interests as an independent investigator for the past 35 years. Along the way, I've had the opportunity to work with some hard-working and smart scientists who have made significant contributions to our work, for which I am eternally grateful," Jarvis says. "In addition, I've had great support from the Office of Research and Economic Development at UW, particularly from the former VP, Dr. Bill Gern, which was instrumental in getting GlycoBac off to a good start."
Jarvis earned his bachelor's and master's degrees in microbiology from Idaho State University before receiving his Ph.D. in virology at the Baylor College of Medicine in Houston, Texas, in 1986. Before coming to UW, he worked as a research scientist, assistant professor and associate professor at Texas A&M University.
The tradition of AAAS Fellows began in 1874. AAAS, founded in 1848, includes some 262 affiliated societies and academies of sciences and serves 10 million individuals. The association also publishes Science and five other journals.
Jarvis joins the ranks of noted fellows such as Alondra Nelson, deputy assistant to the president and principal deputy director for science and society at the White House Office of Science and Technology Policy; Mae Jemison, the first Black woman to go to space; Steven Chu, 1997 Nobel Laureate in Physics who served as the 12th U.S. Secretary of Energy; W.E.B. Dubois, considered the founding father of American sociology; Ellen Ochoa, veteran astronaut and the Johnson Space Center's first Hispanic and second female director in its history; and Grace Hopper, pioneer in computer software development and programming language.
Contact Us
Institutional Communications
Bureau of Mines Building, Room 137
Laramie
Laramie, WY 82071
Phone: (307) 766-2929
Email: cbaldwin@uwyo.edu