Police Department
University of Wyoming
1000 E. University Ave. Dept. 3124
Laramie, WY 82071
Phone: 307-766-5179
Email:
uwpd@uwyo.edu
Lost and Found
The UWPD picks up and stores found items from campus locations and stores them at an undisclosed location.  High traffic buildings (i.e. Union, Coe Library and the Classroom building) are scheduled for bi-monthly pickups, while remaining buildings are picked up on an as-needed basis.  All unclaimed property will be auctioned off annually in September.  Please check below for recent items picked up and buildings visited.
How To Report a Lost Item
We have 2 ways to report missing items.  The first is to complete an online survey, the second is to call our lost and found department.
Please click the banner below to submit a survey that will be emailed to Lost and Found.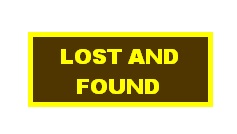 Or you may call (307) 766-5788 with the following information:
Name
Phone Number
Item Lost
Date Lost
Complete description of the item (including: make/model, color and size)
Area last seen
We will then contact you if your missing items are turned into our department.
Recently Turned in Items:
Water bottles
USB's (owners have been contacted via UW email)
Clothing Items
Textbooks