Dr. Jean Garrison
Co-Director, Malcolm Wallop Civic Engagement Program


Jean Garrison, Professor of Political Science and International Studies, is the College of Arts and Sciences Seibold Professor for 2021-22. She led UW's community engagement initiative from June 2017-August 2020 first as special assistant to the president for engagement and then founding director of the Office of Engagement and Outreach and UW's chief engagement officer. Her administrative positions at UW have included serving as the founding director of the Center for Global Studies (2014-2019; 2020), which provides international funding opportunities for faculty and student research and organizes a variety of outreach programs around the state, former director of the Global and Area Studies Program/International Studies Program, and interim department head for Modern and Classical Languages. In Fall 2015 she was a fellow at the Kolleg-Forschergruppe (KFG) – Transformative Power of Europe at the Freie Universität Berlin and is the past recipient of a Council on Foreign Relations International Affairs Fellowship where she served in the Office of Chinese and Mongolian Affairs in the U.S. State Department. She also has been a visiting fellow with the Maureen and Mike Mansfield Foundation in Washington, DC. She is the author of three books, Games Advisors Play: Foreign Policy in the Nixon and Carter Administrations, The Making of U.S.-China Policy: Nixon to G.W. Bush, and China and the Energy Equation in Asia, and numerous peer-reviewed articles and book chapters in the area of American foreign policy. She has received numerous teaching awards, the College of Arts and Sciences Extraordinary Merit in Research and Extraordinary Merit in Advising awards, and is past recipient of the President's Stewardship Award. She holds a Ph.D. in political science from the University of South Carolina and B.A. from UW also in political science. As the Seibold Professor for 2021-22, she will pursue research on civic engagement programs, work to partner on national security curriculum with Warren Air Force Base, and pursue her ongoing work on American foreign policy and political polarization with partners at Freie Universität Berlin.
Dr. Jason McConnell
Co-Director, Wallop Civic Engagement Program & Wallop Faculty Fellow


Jason B. McConnell, Assistant Professor of Political Science, holds a Ph.D. in Political Science from Washington State University, a J.D. from the UW College of Law, and also M.A. and B.S. degrees in political science from UW. His research focus is on judicial politics with an emphasis on civil rights & civil liberties. In 2017 he co-authored the 8th edition of The Equality State, a textbook on Wyoming government, with colleagues James King, Andrew Garner, and Robert Schuhmann. An updated 9th edition is forthcoming. Jason is a two-time winner of the "Top Prof" award, as well as a two-time awardee for Promoting Intellectual Engagement in the First Year. While at Washington State University, he was awarded the President's Award for Leadership and Service. He teaches cross-listed courses in political science and criminal justice, as well as public administration, including Constitutional Law, Free Speech, Civil Rights & Civil Liberties, and Empirical Analysis. Jason's primary research agenda explores free speech and speech suppression. His work in this field, over the last ten years, has focused on speech issues on contemporary college campuses. His research on collegiate student athletes' use of social media revealed the delicate balancing act performed by administrators, as they attempt to protect their institution's public image while trying to avoid infringing upon the athlete's rights to express themselves. More recently, his research has examined the relationship between perceptions of racism, sexism, and bigotry and perceptions of university policies designed to combat those issues while also protecting free expression. That work is ongoing, as is a newly started project focused on federal employee decision-making, when they object to directives from elected officials. McConnell's work looks broadly at the role of discourse in our democracy.
Dr. Curtis Biggs
Director, Trustees Education Initiative


Curtis Biggs is Director of the Trustees Education Initiative (TEI) UW-E4® model for the University of Wyoming College of Education. Biggs is a driver of the TEI mission to transform the K-12 education system in Wyoming, produce the nation's highest quality teachers, and set the bar for educator preparation nationwide. Biggs has enjoyed 16 years in higher education administration, serving in dean, associate dean, and director roles at 2-year and 4-year institutions in Wyoming, Montana, and New Jersey. He is affiliate faculty for the New Jersey City University doctoral program in Community College Leadership. His career includes work in strategic enrollment and retention strategy; community college executive leadership, dual/concurrent enrollment program and policy development; distance learning development and implementation; international student support and compliance services; and educator professional development. Biggs serves on the Wyoming's Tomorrow Legislative Task Force, Wyoming Association of Career & Technical Education Advisory Board, and Wyoming Perkins V State Advisory Council. He is a past member of the University of Wyoming International Advisory Council, and has served the State as a member of the Wyoming Workforce Development Council, the Serve Wyoming board, and various local CTE advisory committees. Biggs earned a bachelor's at the University of Nebraska-Lincoln, master's degree at the University of Montana, and is completing a Ph.D. in International Educational Leadership at the University of Montana. His research interests include rural higher education student success, advancement of teacher instructional capacity and persistence through global experiences, and exploration of effective models in educator professional development.
Dr. Colby Gull
Managing Director, Trustees Education Initiative


Colby Gull is the Managing Director of the Trustees Education Initiative at the University of Wyoming. Prior to coming to the University he served as the superintendent of schools for Uinta County School District #6, Lyman, Wyoming and superintendent of schools in Challis, Idaho. Colby taught special education at Cedar High School in southern Utah where he also coached track and cross-country. Colby earned his B.S. in elementary education and special education from Southern Utah University. He also holds a master's degree in educational leadership from Southern Utah University. Colby earned his EdD from Idaho State University in Education Leadership and Administration. Customized learning, rural education, and interdisciplinary programming are among Colby's research interests.
Michael McDaniel
Graduate Assistant, Malcolm Wallop Civic Engagement Program


Michael McDaniel- is a Wallop Civic Engagement Program Graduate Assistant and adjunct instructor of political science at the University of Wyoming. He holds an M.A. in Political Science from the University of Wyoming, a B.A. in Social Science from the University of Wyoming at Casper, and an A.A. in General Studies from Casper College. He is currently working on his Ed.D. in Higher Education Administration at the University of Wyoming. In 2020 he was awarded the University of Wyoming Political Science Outstanding Graduate Award. His research focus is on justifications for paternalistic legislation within the United States. He co-authored "Paternalistic State-Level Abortion Restrictions," published in the Willamette University Law Journal Social Justice and Equality Law Spring 2020, Vol. 3, Issue 2.
Alia Jackson
AmeriCorps Engagement Coordinator, Office of Engagement and Outreach


Alia Jackson is an AmeriCorps Engagement Coordinator in the Office of Engagement and Outreach at the University of Wyoming, serving her 2nd year of full-time service. Alia provides support to ongoing projects, including the Malcolm Wallop Civic Engagement Program and Saturday University. Her work focuses on engagement with teachers and administrators at schools across Wyoming, as well as content creation and review for the Malcolm Wallop K-12 Curriculum Project. She holds a B.A. in International Studies from the University of Wyoming.
Dustin Hansen
Technology and Media Production Intern, Trustee's Education Initiative


Dustin Hansen is an undergraduate student at the University Of Wyoming currently majoring in communication. Dustin's area of study focuses on media production, including audio, video and photography. Dustin plans to graduate in May 2020 and produce online media professionally. Dustin's passion is to work with others to develop and enhance their projects. Skilled at helping teams achieve their goals in sound and video design, Dustin has an ear and vision to make projects stronger and more appealing to the audience. He is currently working with The Wallop Civic Engagement Program and is the proud recipient of the Wallop award. Dustin is honored and humbled to put his talents toward the audio and video productions bearing the Malcolm Wallop name. In addition to the Wallop program, Dustin plays roles in a number of other UW and statewide projects, including the American Heritage Center Digital Archives project and numerous Trustees Education Initiative education podcast and video productions. Dustin was also instrumental in the producing, editing, and publishing the Wyoming Department of Education "Wyoming WebEd Radio" show. Designed to support educators across the state with classroom resources to implement during and beyond the pandemic, Dustin assured the quality and timeliness of weekly live and recorded sessions. In his spare time, Dustin enjoys producing his podcast "Save Station Radio", discovering innovative new video games, and walking his dog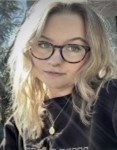 Holly Wodahl
Wallop Profiles in Wyoming Resilience Project intern


My name is Holly Wodahl and I am a senior at the University of Wyoming. I am currently pursuing majors in Political Science, International Studies, and Environment and Natural Resources, with minors in French and Honors. I have lived in Laramie for most of my life and was grateful to take advantage of the Hathaway Scholarship and further my education close to home. Upon my graduation in May of 2022, I plan to attend law school and pursue a career in public interest law. I have always been fascinated by social justice and hope to enter this field professionally. I am extremely happy to be working with the Civic Engagement Program and the Profiles in Wyoming Resilience project.