Solvent Extraction Pilot Plant Moves Off-Campus as Project Continues to Advance
June 10, 2021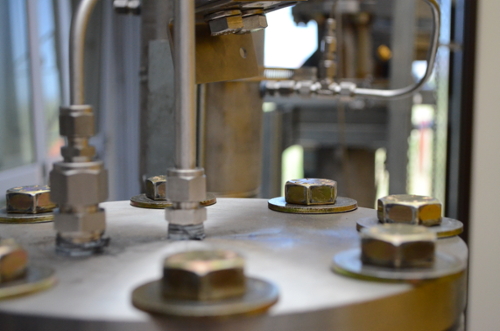 The Carbon Capture and Conversion Center of Excellence (CCCC) at the School of Energy Resources (SER) recently migrated the coal solvent extraction pilot plant from the Energy Innovation Center (EIC) laboratory site where it was commissioned, to a new dedicated off-campus location. This pilot plant is demonstrating one of the core process technologies for SER's carbon engineering program focused on using Wyoming coal to produce valuable, non-energy and fuel intermediate products.
Relocating the solvent extraction pilot plant will permit continued operations without restrictions to produce high volumes of coal extract which will be used as a feedstock to make large quantities of coatings, resin systems, 100% coal composite materials and road asphalt products.
The relocation of the pilot plant is a critical step in the effort to scale-up the process and develop needed parametric information for engineering a follow-up field demonstration — all necessary steps as the technology is driven toward the ultimate goal of commercialization.
"We are at an exciting time in furthering the development of our proprietary coal solvent extraction work, scaling up, engineering, and deciding upon the likely commercial configuration for the process," says CCCC Director, Richard Horner. "After proving we can make some extremely valuable molecules and intermediate materials which are highly customizable, we now want to be able to produce these products in much larger quantities to feed coal-derived product demonstration trials with our industry partners."
The new facility location has specialized hazard and emissions control equipment already in place and will allow researchers to operate the pilot plant for prolonged periods. In addition to accomplishing the project objectives safely and uninterrupted, the larger facility offers the capacity for rapid grow within the coal-to-products carbon engineering program.
The solvent extraction pilot plant is an integral component of the UW proprietary thermo-chemical process configuration which converts Powder River Basin (PRB) coal into non-energy and fuel products with a minimal carbon footprint. It, along with other pilot plant activities utilizing related technologies – namely fast pyrolysis and dry methane reforming – seek to repurpose Wyoming coal reserves to make valuable engineered and chemical products at a commercial scale.
"The thermo-chemical process has the potential to revolutionize the use of PRB coal," says Horner. "The entire system is currently the subject of a patent application, and most importantly, it complies with the most stringent environmental and health requirements."
According to Horner, thermal coal solvent extraction is a versatile conversion process that yields high volumes of liquids and extracts which are the building-blocks to make a wide range of engineered molecules. The solvent used can be rejuvenated and recycled, making the process low cost to operate and therefore highly competitive.
Fast pyrolysis processing, he explains, consists of rapidly subjecting coal to extremely high temperatures for very short periods of time, in an inert or hydrogen rich environment. While liquids are produced, control of the process produces ultra-high purity coal chars suited to make agricultural products, building materials, electrical devices, health-care products and reinforcements and fillers for composite material solutions.
Dry methane reforming technology, takes the carbon dioxide liberated from the flash pyrolysis processing platform, and when mixed with methane, produces a one-to-one ratio of high-quality synthesis gas (CO+H2). The gas is then used to manufacture the high-demand solvents and chemicals used in making coal-derived engineered products on-site, or it is sold as a commodity product, he says.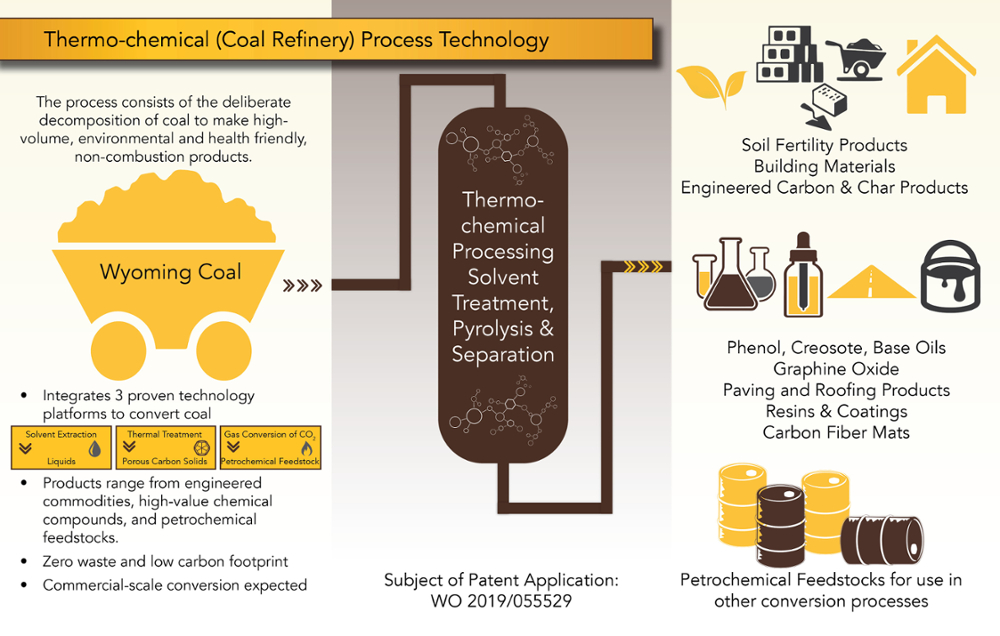 The three aforementioned technological process platforms are designed and customized to advantage Wyoming coal and are in varying stages of experimental development and scale up. Once integrated in a field demonstration, they will work together to play an important role in diversifying the future use of Wyoming coal and create new market opportunities.
"The current pilot plant phase is validating the economics and process design of the system," adds Horner. "Its success will justify building the field demonstration of the integrated process solution, bringing commercialization, one step closer to fruition."
SER's Executive Director, Dr. Holly Krutka comments on the importance of the project and why moving it out of the laboratory is significant.
"The Wyoming legislature has invested in its coal future since 2016," says Krutka. "Coal is foundational to Wyoming's economy and SER works tirelessly to support Wyoming's coal sector as well as other energy sources. The relocation of this project is a critical step in advancing the project toward commercial viability."