SER's Dr. Holly Krutka Discusses the Gender Gap in STEM Education and Ways to Bridge It
September 8, 2021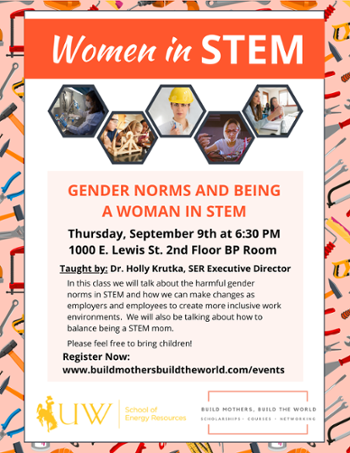 School of Energy Resources (SER) Executive Director Holly Krutka will be discussing issues related to gender norms and the problematic gender gap as relates to education in science, technology, engineering, and mathematics (STEM) in an event presented by Build Mothers, Build the World.
The presentation will take place Thursday, September 9, at 6:30 p.m. in the School of Energy Resources Energy Innovation Center located at 11th and Lewis.
Build Mothers, Build the World is a non-profit dedicated to improving the lives of women in Wyoming. They specifically work with mothers attending school in Laramie and Albany counties. The organization is driven to elevate mothers through empowerment, education, a strong foundation of support, and community impact.
In a field that has traditionally been male-dominated, it is vital to motivate girls and women to pursue careers in STEM. Dr. Krutka will talk about her experience combatting gender norms throughout her successful career, and discuss solutions for employers and employees to create more inclusive work environments.
Holding a doctorate of chemical engineering, Krutka is also a mother of three. Her discussion will highlight some of the challenges she has faced, and will offer insights in how she balances being a mother in STEM.
"I and other women in STEM fields today stand on the shoulders of many women and mothers who have pursued their passions despite challenges," says Krutka. "I hope this event and others like it will inspire others to stand on my shoulders as we all work toward a more diverse future in STEM fields and beyond."
Build Mothers, Build the World hopes to showcase STEM as an attainable pursuit while providing women with the essential skills and career exploration opportunities to find a career that aligns with their interests and passions.
Anyone interested in attending the event can register here: https://www.buildmothersbuildtheworld.com/event-info/women-in-stem