Chemical and Petroleum
Engineering, Dept. 3295
1000 E. University Ave.
Laramie, WY 82071
Phone: (307)766-2500
Email:
chpe.info@uwyo.edu
Department of Chemical and Petroleum Engineering
Welcome to the Department of Chemical and Petroleum Engineering at the University of Wyoming! Our department, consisting of 29 faculty, 75 graduate students and approximately 500 undergraduate students from all over the world. 
We offer courses that prepare students for careers in chemical and petroleum fields, our state of the art equipment provides higher levels of research capabilities, and our award-winning faculty create innovative and rigorous research opportunities for graduate students.
Department News
UW Researchers Advance Biorenewable Energy Prospects

University of Wyoming graduate student Allen Morris works in a laboratory in the UW College of Engineering and Applied Science, while Associate Professor Joe Holles watches. The two are researching the use of a catalytic process to produce liquid fuel from biorenewable sources, through a research stipend from UW's School of Energy Resources.
Tau Beta Pi Honors Banquet recognizes the accomplishments of its students, faculty, and staff, and thanks our scholarship donors for their generous support of its students. Dr. H. Gordon Harris  receives Outstanding Undergraduate Teaching Award and Maohong Fan Receives Samuel D. Hakes Outstanding Graduate Research and Teaching Award.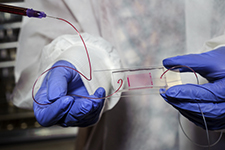 Learn more about Chemical and Petroleum Engineering's innovative research programs.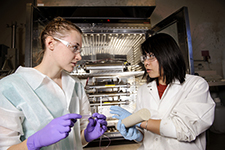 Explore degree offerings for Masters and Doctoral degrees in Chemical and Petroleum Engineering