Chemical and Petroleum
Engineering, Dept. 3295
1000 E. University Ave.
Laramie, WY 82071
Phone: (307)766-2500
Email:
chpe.info@uwyo.edu
Department of Chemical and Petroleum Engineering
Welcome to the Department of Chemical and Petroleum Engineering at the University of Wyoming! Our department, consisting of 29 faculty, 75 graduate students and approximately 500 undergraduate students from all over the world. 
We offer courses that prepare students for careers in chemical and petroleum fields, our state of the art equipment provides higher levels of research capabilities, and our award-winning faculty create innovative and rigorous research opportunities for graduate students.
---
Newly Established Department of Petroleum Engineering
The University of Wyoming College of Engineering and Applied Science invites applications for the position of Department Head of the newly established Department of Petroleum Engineering. The petroleum engineering program has been a part of the Department of Chemical and Petroleum Engineering, and its sustained growth now justifies its operation as an independent department. [Position Information]
Department News
Tau Beta Pi Honors Banquet recognizes the accomplishments of its students, faculty, and staff, and thanks our scholarship donors for their generous support of its students. Dr. H. Gordon Harris  receives Outstanding Undergraduate Teaching Award and Maohong Fan Receives Samuel D. Hakes Outstanding Graduate Research and Teaching Award.
Hess Makes Second $5 Million Commitment to UW
Hess's most recent gift commitment of $4.3 million will support the building of UW's new High Bay Research Facility and essential technology and equipment used in the facility for research into unconventional oil and gas reservoirs. Hess's commitments to UW -- gifts and research -- now total $10 million, which has leveraged $8.7 million in state matching funds (first commitment recorded in March 2012).
Norm Morrow's UW Career Defines 'Pioneer'

If anyone deserves the designation of "pioneer" in the field of improved oil recovery (IOR), it is University of Wyoming Professor Norman Morrow, whose work in developing low-salinity flooding to unlock the secrets of oil and gas reservoirs and subsurface processes is appreciated and applied throughout the world.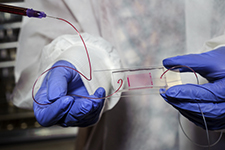 Learn more about Chemical and Petroleum Engineering's innovative research programs.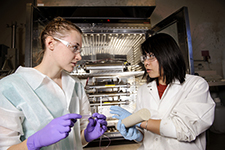 Explore degree offerings for Masters and Doctoral degrees in Chemical and Petroleum Engineering