DIVISION OF COMMUNICATION DISORDERS
COLLEGE OF HEALTH SCIENCES
Welcome to the Division of Communication Disorders!
Honoring Margaret "Maggie" Scarlett
Maggie Scarlett is the 2018 Distinguished Alumna for the Division of Communication Disorders. She was honored at a reception hosted by the College of Health Sciences, Friday, October 19, during UW's Homecoming celebrations. 
For more information on Ms. Scarlett, as well as the other distinguished alumni from the college, please visit CHS Distinguished Alumni. 
We have a long history at the University of Wyoming, coursework in speech correction, as it was known at that time, was initiated in 1940, and the first dedicated degree bachelor's degree in speech correction, was awarded to Barbara Kahn in January 1952.  The Division of Communication Disorders offers a bachelor's (B.S.) degree in Speech, Language and Hearing Science, and Master of Science degree in Speech-Language Pathology.  We have very productive research faculty, creating and disseminating basic and clinical science to inform practice across the lifespan. Our clinical program provides services to the community and state of Wyoming, with 2800 - 3,000 patient contacts a year.  We encourage you to explore our website to learn more about our academic programs, clinical services at the Speech & Hearing Clinic, faculty research,  as well as our scholarships and the Maggie Scarlet Summer Speaker Series. 
The Division and the UW Speech and Hearing Clinic are located in the Health Sciences building.    (campus map).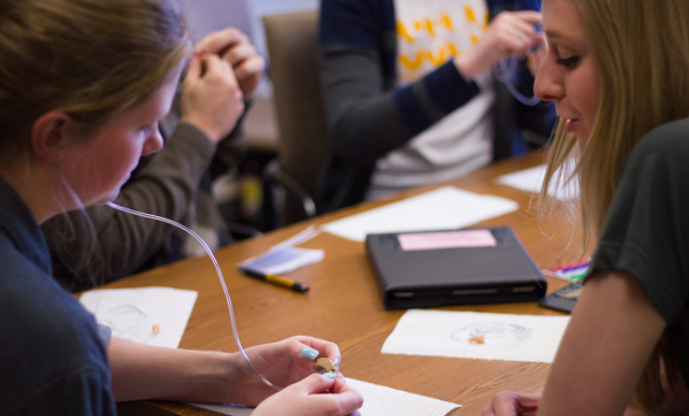 The University of Wyoming Master of Science program in speech-language pathology is accredited by the Council on Academic Accreditation in Audiology and Speech-Language Pathology (CAA).  For more information on the CAA visit:
http://caa.asha.org/
.  The program's most recent accreditation was awarded for a full cycle, a period of 8 years beginning 1/1/2017 through 12/31/2024.
You're Invited!
The Division of Communication Disorders invites you to an Open House event for an overview of our academic programs (BS & MS) and American Sign Language. 
Friday, October 19, from 1:00-2:00 p.m., in Health Sciences room 265. 
RSVP by October 12 to hwarren@uwyo.edu
Questions? Email: hwarren@uwyo.edu or call (307) 766-6394
Click HERE to find out more.
The next Open House will be held Thursday, December 6, 2018 from 1 - 2:30 p.m.